In a trial that garnered national attention because of the conflict between state and federal marijuana laws, a federal jury in Los Angeles Tuesday convicted the owner of a Morro Bay medical marijuana dispensary on five counts of violating federal drug laws. As was the case in previous federal prosecutions, the defense was not allowed to mount a medical marijuana defense or even mention the words "medical marijuana" during the course of the trial.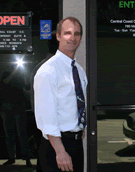 Charles Lynch
[16]
, 46, operator of Central Coast Compassionate Caregivers in San Luis Obispo County, faces a minimum of five years in prison and as many as 85 years after being found guilty of distributing more than 100 kilograms of marijuana, some of to people considered minors under federal law.
Federal prosecutors portrayed Lynch as a mercenary drug dealer, toting around backpacks full of cash and selling dope to minors. One minor, Owen Beck, actually took the stand in Lynch's defense. Beck suffers from bone cancer, and accompanied by his parents, he would visit the dispensary to purchase medical marijuana recommended to him by his Stanford University oncologist. But as soon as Beck mentioned that he was ill, Federal District Court Judge George Wu blocked his testimony.
In an interview with the Los Angeles Times [17] after reaching a verdict, jury forewoman Kitty Meese said jurors understood Lynch was no run-of-the-mill drug dealer, but that federal law made no provision for dispensary operators. "We all felt Mr. Lynch intended well," Meese said. "But under the parameters we were given for the federal law, we didn't have a choice." She added, "it was a tough decision for all of us because the state law and the federal law are at odds."
Lynch had run the dispensary in compliance with state law and with the blessing of local officials in Morro Bay, but after a fruitless, year-long investigation by San Luis Obispo County Sheriff Pat Hedges failed to find any violations of state law, the sheriff invited the DEA to come and raid the dispensary. The DEA did just that last year, and a few months later a federal grand jury indicted him.
Lynch is only the latest of at least six dispensary operators convicted under the federal drug laws, and his dispensary is but one of the dozens raided by the DEA in the last couple of years. With federal juries blocked from hearing about or considering the state's medical marijuana laws by federal judges in those cases, convictions are all but a foregone conclusion.
"This just goes to show the difficulty of getting a fair trial on this in federal court," said Dale Gieringer, head of California NORML [18]. "The feds are batting a thousand when it comes to getting convictions in these cases. You cannot get a fair hearing."
"Charley got steamrolled by the federal government," said San Luis Obispo attorney Lou Koory, who represented Lynch in his dealings with local officials. "It's just not a fair fight when you can't tell the whole story," he said.
"The jury selection process revealed that potential jurors in Los Angeles had major questions about why the feds would be prosecuting someone like Charley when there are several dispensaries operating within walking distance of the courthouse there," Koory pointed out. "Those jurors were dismissed for cause, so we were left with citizens who were apparently not concerned about the federal government's actions in this case and who felt compelled to follow the judge's instructions."
"When you have things like Owen Beck being prevented from testifying, that only escalates the tragedy of this case," said Kris Hermes, spokesman for the medical marijuana defense group Americans for Safe Access [19]. "The jury was not allowed to hear the whole truth in the larger context of the state law," he said.
Hermes was quick to point out that Lynch was not the only victim of the DEA and its local law enforcement collaborators. "When Charles was raided, his was one of the only facilities in the whole region," said Hermes. "Now patients have to go much longer distances, sometimes hundreds of miles, to get their medicine. Not only has this destroyed Charlie's life, it has worsened the lives of hundreds of patients."
With the deck stacked against dispensary operators in these federal prosecutions, activists and advocates are looking for ways to change the status quo. Some involve fighting back against recalcitrant law enforcement officials like Sheriff Hedges, others looks to greater help from state officials, while still others are turning a jaundiced eye on the federal marijuana laws.
At least one of Lynch's patients has filed suit against Hedges, alleging that he violated patients' privacy protections by seizing patient records and violated both her state and federal constitutional rights by doing an end run around state law.
"The sheriff couldn't get a state search warrant, so he calls in the DEA and participates in the raid," said Koory. "In return for serving up Charley on a silver platter, the sheriff got access to all the evidence, including patient records," he explained. "The dispensary was a rock in the sheriff's shoe, so after a year's worth of failed investigation, Sheriff Hedges invited the DEA to come up to Morro Bay and raid the dispensary. That's the real story here."
While the idea of suing sheriffs sounds appealing, it's a long-shot, said Hermes. "They are certainly subject to litigation if someone wants to file a lawsuit against a local official for cooperating with the federal government, but it's a difficult legal challenge," he said. "There is no law that prohibits local law enforcement from cooperating with the feds. What officials like the sheriff are doing is wrongheaded, harmful, and unnecessary, but it will be difficult to win, I think."
In the meantime, said Hermes, there are other avenues to pursue in reining in renegade local officials. "One thing would be to get a pronouncement from Attorney General Jerry Brown directing law enforcement on appropriate conduct around these issues. We're expecting that to happen soon," he said. "Absence of direction from the attorney general has made it easier not only for federal law enforcement to come in and undermine the implementation of state law, but also to make it easier for local law enforcement to help in that effort."
Hermes said that recent state court decisions, including last week's slap-down of San Diego County's challenge to the law (see related story this issue [20]) are also helping define the playing field. "We've had multiple appellate court rulings declaring the state's medical marijuana law is not preempted by federal law, that the two can coexist, and that local law enforcement should be upholding state law and not federal law," he said. "Between these rulings and the pending guidelines from the attorney general, there will be less and less wiggle room for local law enforcement to skirt the law."
There is also the ballot box. Sheriffs are elected officials, and they could be challenged at the voting booth over their medical marijuana misbehavior, but ASA's Hermes couldn't recall a case where someone was either defeated or elected over the issue. "It is certainly an issue to bring up in sheriffs' races," he said. "If there are renegade law enforcement officials trying to skirt state law, we can try to make them feel the political heat."
Still, Hermes predicted that given the state court rulings, the pending guidelines from the attorney general, and new set of faces in Washington next year, the renegade law enforcement problem will probably recede. "If it continues to happen," he said, "there will be a political battle I think public officials will be sorry they got into. I think we will see less and less cooperation between local law enforcement and the feds on this."
A new administration in Washington could make a huge difference, Hermes said. "If we elect Obama, and he follows through on his promise to end federal raids on dispensaries, then we will hopefully see less federal activity here in California."
But the ultimate solution is changing the federal law around marijuana. Legalization, decriminalization, rescheduling marijuana out of Schedule 1, or even passage of the Hinchey-Rohrabacher amendment, which would cut off funds for federal raids in medical marijuana states, are some of the steps that could be taken.
"We need to see either marijuana rescheduled as something other than Schedule 1, or the US Supreme Court's Raich decision needs to be revisited and overruled. The logic behind that decision -- that medical marijuana grown, distributed, and consumed within California affects interstate commerce -- is a stretch at best," said Koory.
"What we need is a comprehensive federal policy in the US," said Hermes. "Rescheduling or passing Hinchey would be easier than passing either decriminalization or legalization, but we would welcome any of those. We'll be working for a sweeping federal policy that includes rescheduling, further research, and allows for safe access to medical marijuana for patients all across the country."
Until the federal marijuana laws are reformed or eliminated, medical marijuana patients are not safe. Instead, they will be subject to the whims and political proclivities of whoever has hold of the levers of power in Washington.
Click here [21] to watch Drew Carey's video about Charlie Lynch, on Reason TV.