Argentine President Cristina Fernández de Kirchner called last week for the decriminalization of drug use [17] and the integration of harm reduction efforts into the country's drug strategy. Her statement comes almost a year after Minister of Justice, Security, and Human Rights Aníbal Fernández announced he was proposing a bill that would do just that.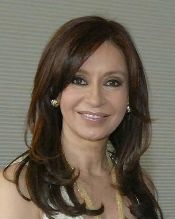 "I don't like it when people easily condemn someone who has an addiction as if he were a criminal, as if he were a person who should be persecuted," she told the meeting. "Those who should be persecuted are those who sell the substances, those who give it away, those who traffic in it."
Kirchner' remarks came as Minister Fernández presented the results of a national poll on drug use that found alcohol and cocaine consumption decreasing, but marijuana consumption on the rise. The president and most of her cabinet attended that presentation.
Minister Fernández, who in March told the UN Commission on Narcotic Drugs that drug policies that punished users were a "complete failure," said Argentina's next drug policy should include human rights, harm reduction, and prevention, as well as law enforcement.
"Decriminalization of the consumer should include what are called second-generation human rights, but at the same time there should be a strong policy of prevention, so that no one falls in the situation of consuming any substance," he said.
Thanks in parts to the efforts of Argentine harm reduction groups like ARDA [18] (the Argentine Harm Reduction Association and Intercambios [19], pressure for decriminalization in Argentina has been building for years. Five years ago, during the presidency of Fernández de Kirchner's husband, Néstor Kirchner, a decrim bill [20] was introduced, but went nowhere. More recently, in April [21] of this year and again in June [22], Argentine federal courts have thrown out drug possession cases, saying the current drug law was unconstitutional.
If Argentina actually does decriminalize drug possession, it will join a select group of countries, mostly in Europe, but also including Colombia and Peru. Brazil is also edging in the same direction, with an appeals court in São Paulo ruling in March [23] that drug possession is not a crime.