Click here to order this book today! [13]
Phillip S. Smith [14], Writer/Editor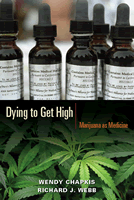 In "Dying to Get High," sociologists Wendy Chapkis and Richard Webb have written a sympathetic yet academically rigorous account of the contemporary controversies surrounding medical marijuana. They trace the use of marijuana as medicine in the US, its decline as a medicine in the early 20th Century, its removal from the pharmacopeia in 1941 (just four years after it was banned by federal law), the continuing blockage of research into its medical benefits by ideologically-driven federal authorities, and the renaissance of medical marijuana knowledge today, much of it derived from -- gasp! -- patients, not doctors or researchers.
As sociologists, Chapkis and Webb have a keen eye for the broader social, cultural, and political forces surrounding the issue of medical marijuana, from the rise of the pharmaceutical and medical establishments to the "culture war" contempt for marijuana and users among many Americans. But as much as middle America may disdain pot-smoking hippies, it seems that it is marijuana's location on the wrong side of the modern scientific and pharmaceutical discourse that most hinders its acceptance as a medicine.
Pot is a plant, not a pill. It is an herbal medication, not a chemical compound. It is a "crude plant material," not a "pure drug." All of this, Chapkis and Webb suggest, make it difficult indeed for the medical and scientific establishment to wrap its head around medical marijuana. And when scientific bias is coupled with cultural disdain and fear of widespread "abuse," that the federal government remains resistant to medical marijuana is hardly a surprise.
Chapkis and Webb deliver a resounding, well-reasoned indictment of the political and (pseudo) scientific opposition to medical marijuana, and their succinct discussion of the issues surrounding the controversy is worth the price of admission.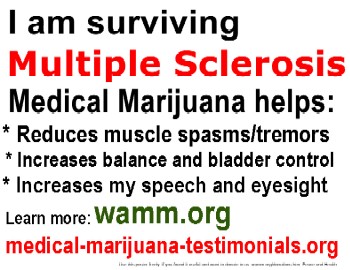 But "Dying to Get High" is also an in-depth portrait of one of the country's most well-known medical marijuana collectives, the Wo/Men's Access to Medical Marijuana (WAMM) collective in Santa Cruz, California, and it is here that the authors are really breaking new ground. They go from the big-picture sociology of medical marijuana in the past century to narrowly focus on ethnography of a patient collective, describing in loving detail the inner workings, dynamics, and tensions of a group with charismatic leadership -- Mike and Valerie Corral -- more than 200 seriously ill patients, and the specter of the DEA always looming.
Their account of the emergence and permanence of WAMM is both moving and enlightening. Rooted in the fertile soil of Santa Cruz, already well-tilled by previous social movements such as feminism, gay rights, and AIDS activism, WAMM may only have been possible in a place that friendly to radical movements and that familiar with activism around issues of medical care and social justice. Chapkis and Webb chart its formation, its growth, its conflicts and problems, and the humanity of its suffering members.
They also tell the story of the 2002 DEA raid on the WAMM garden and its devastating impact on members. But that raid and its aftermath were not just a blow to the sick and dying, they were a call to arms, impelling WAMM into ever more overtly political action to protect itself and the broader movement.
More broadly, Chapkis and Webb do a great service by dissecting WAMM, looking at how it works, how it handles dysfunction, and how it provides a service far beyond mere medical marijuana to its members. WAMM is perhaps the model medical marijuana collective, and it has many lessons to offer the interested reader.
Would a WAMM-style collective work elsewhere? Chapkis and Webb emphasize the importance of the cultural and political backdrop in Santa Cruz in making WAMM possible, but I think the very emergence of WAMM as a successful collective makes the possibility of similar collectives coming into being elsewhere all the more likely. After all, even California as a whole is not as radicalized as Santa Cruz or San Francisco, but similar collectives are popping up in Santa Rosa and the San Fernando Valley, among other places.
In any case, Chapkis and Webb provide plenty to chew on, for those who want to pick up some historical knowledge and debating points, for those interested in the genesis of the contemporary marijuana movement, and for those who are pondering the viability of similarly radical approaches to health and self-organizing.