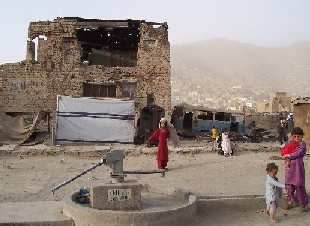 While Afghan President Hamid Karzai was in Washington this week for meetings with President Bush and other officials, and politicians of both parties were calling for increased anti-drug spending in Afghanistan to deal with that country's burgeoning opium crop, a little noticed Senate hearing last week provided a real crash course on a rational drug policy in Afghanistan. In a Senate Foreign Relations Committee hearing on September 21, New York University Professor Barnett Rubin, perhaps the country's leading Afghanistan expert, provided a strong critique of the obsessive focus on crop eradication and even suggested policymakers consider regulating the opium trade. Rubin is most recently the author of
Aghanistan: Uncertain Transition from Turmoil to Normalcy
[21]
, published by the Council on Foreign Relations in March.
Rubin addressed the issue both in his prepared remarks and in a brief question and answer session at the end of the hearing. His remarks are worth quoting extensively. Here is what he said in his prepared remarks [22] (available only to paid subscribers):
"On narcotics, I would like -- sometimes when people call for a stronger counternarcotics policy, which I fully endorse, they focus on crop eradication, as if crop eradication were the central point of counternarcotics. I would submit that that is an error.

"First, we have to be clear about what is the goal of our counternarcotics policy in Afghanistan. Where does the harm come from? We are not trying to -- or we should not be trying to -- solve the world's problem of drug addiction in Afghanistan. If we, with all our capacity, cannot stop drug addiction in the United States, we are certainly not going to use law enforcement successfully to eliminate half the economy of the poorest and best armed country in the world.

"Therefore, we must focus on the real harm which comes from drug money. Now, 80% of the drug money inside Afghanistan, regardless of the 90% of the total income from drugs which goes outside of Afghanistan -- 80% of the drug money inside of Afghanistan is in the hands of traffickers and warlords, not farmers. When we eradicate crops, the price of poppy goes up, and the traffickers who have stocks become richer. Therefore, we should be focusing on the warlords and traffickers, on interdiction and so on, while we are helping the poor farmers. That is also consistent with our political interests of winning the farmers over and isolating those that are against us.

"Furthermore, it is a mistake to consider the drug problem in Afghanistan as something that is isolated in the major poppy growing areas. For instance, now there is fighting in Helmand province, which is the major poppy producing area in the world. Because there is fighting going on, it is not possible to implement a counternarcotics strategy in Helmand. We need to implement rural development throughout Afghanistan, especially in the areas where there is no poppy, in order to show people what is possible and build an alternative economy."
And here is an exchange between Rubin and Sens. George Voinovich (R-OH) and Frank Lugar (R-IN):
VOINOVICH:

"Mr. Chairman, could I just ask one last thing? You alluded to the issue of the drug problem in the United States. And I got the impression that some of these drugs are coming into the US. Is that...

RUBIN:

Well, I perhaps should have said the developed world. I believe actually the bulk of the narcotics produced in Afghanistan are consumed in Iran and Pakistan.

VOINOVICH:

OK. So that's why the Iranians are so interested in making sure it stops.

RUBIN:

Yes.

VOINOVICH:

The reason I bring it up is I just had our local FBI director visit with me from Cincinnati, and he said, "Senator, the issue of terrorism is one that we're gravely concerned about." But he said the biggest issue that we've got here in the United States that we're not paying attention to is the drug problem, and that our resources are being, you know, kind of spread out. And we really have got to look at that. It's still there, and we need to deal with it. And we're not directing our attention to it. And I think you remember the other hearing we had a year or so ago, we had the folks in here and they were talking about how active the Russian mafia is in the United States and seemed to be doing about whatever they want to do, because we don't have the resources to deal with that problem. So from my perspective, you're saying the biggest market is in those countries you just mentioned...

RUBIN:

That's in physical quantity. The biggest market in money is in Europe and of course in the United States. If I may add, if you don't mind my mentioning something that I heard in the other house yesterday, Dr. Paul, a Republican from Texas, mentioned at the hearing yesterday that in his view we had failed to learn the lessons of prohibition, which, of course, provided the start-up capital for organized crime in the United States, and that, in effect, by turning drug use into a crime, we are funding organized crime and insurgency around the world. And it may be that we need to look at other methods of regulation and treatment.

VOINOVICH:

Thank you.

LUGAR:

Thank you, Senator Voinovich. It's a fascinating thought that you just imparted, that although the bulk of the drugs may be utilized by Iran and Pakistan, that the greatest value for those that are not imbibed by these countries comes from Europe and the United States. Why? Because the people surely don't receive it for free, but what is the distribution? Why are Pakistan and Iran so afflicted by drugs from...

RUBIN:

Well, they're closer. Basically, the cost of production is a negligible portion of the price of narcotics.

LUGAR:

So it's transportation...

RUBIN:

No, no. It's risk because it's illegal.

LUGAR:

I see.

RUBIN:

If it were not illegal, it would be worth hardly anything. It's only its illegality that makes it so valuable.

LUGAR:

Another fascinating topic. (LAUGHTER) Well, we thank you again for your help (inaudible). The hearing is adjourned."
Another fascinating topic, indeed. At least someone is trying to educate our elected officials about the economic and political consequences of drug prohibition -- in Afghanistan, anyway.