State legislatures are once again proving a formidable hurdle for the medical marijuana movement. In the last two weeks, legislation died for lack of action in the Minnesota Senate, and while the Rhode Island Senate passed a dispensary bill, it is unclear whether it will make it to the House floor. But hope springs eternal, as evidenced this week in Ohio, where the first medical marijuana bill in years was introduced.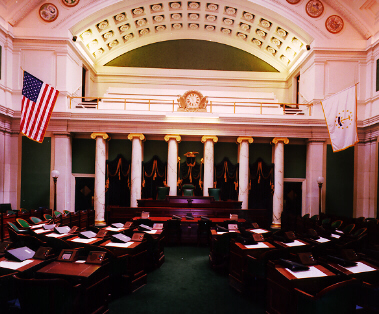 In Minnesota, a bill that would have legalized medical marijuana in the state,
SF 345
[11]
, died this week because of inaction on the House floor. The bill had passed the state Senate last year, the first year of the state's biannual legislative session, and passed out of the House Ways and Means Committee on a 13-4 vote earlier this month.
But it never got to a floor vote in the House before the session ran out. Supporters blamed the House leadership and the opposition of some sectors of law enforcement, which could not be pleased no matter how many changes to the bill -- 19 -- supporters made to assuage their fears. The bill also faced a likely veto from Republican Gov. Tim Pawlenty.
"We're disappointed that the Minnesota legislature failed to enact a medical marijuana bill this year," said Bruce Mirken, director of communications for the Marijuana Policy Project [12], the parent group for Minnesotans for Compassionate Care [13], which led the lobbying fight to pass the bill. "But we've seen in other states that the legislative process often takes several years, and we picked up incredible support this year, including the endorsements of the state's two largest newspapers. The dozens of brave patients who came forward to tell their stories in recent months aren't giving up, and neither are we."
Meanwhile, in Rhode Island, the state Senate approved legislation May 15 that would create "compassion centers" or dispensaries where patients enrolled in the state's medical marijuana program could legally obtain their medicine. Under the bill, S. 2693 [14],the dispensaries could legally grow and sell marijuana to the 359 patients in the state medical marijuana registry. The dispensaries would be regulated by the state Department of Health.
The legislation would create licensed marijuana dispensaries, or "compassion centers," that would legally grow and sell the drug at affordable prices to the 359 patients in the state's program. The centers would be regulated by the state Health Department.
But despite strong popular support and a 29-6 vote in the Senate, the bill is not expected to get through the House this year, the Providence Journal [15] reported. It cited opposition in the House.
"I would really have to have a sock over my head if I didn't know that," said the bill's sponsor, Sen. Rhoda E. Perry (D-Providence). "What I think is important is to show movement," Perry said of the Senate vote. "I think getting it out of a chamber is movement. It's showing that there is a level of understanding and a level of acceptance," she told the Journal.
How patients would get their medicine was "the unasked question" when the state's medical marijuana law was passed, House Majority Leader Gordon Fox told the Journal. "Do you send someone that may be suffering from cancer or whatnot out into the streets to procure it? I don't know if that's necessarily a good solution. I think the natural extension of that is that we provide some sort of safe place to obtain it for those who are legally authorized."
But Fox declined to support the bill just yet. "I'm not saying that the leadership's going to support it," he said. "I'd like to read the bill. I haven't looked at what the bill does."
While the Journal has pronounced the bill dead, that's a bit premature, said Jesse Stout, spokesman for the Rhode Island Patient Advocacy Coalition [16] (RIPAC). "The House leadership hasn't said they're not going to vote on it, so we're working with them to try to schedule it," he said. "We still have another month left in the session."
Stout was confident the measure would pass if it got to a floor vote. "We have a lot of rank and file support from House members who favor this common sense expansion of the law, and we have a new poll [17] that shows popular support for this measure at 69%. We have lots of support, so this is by no means over," he said.
While the legislative process has been long and torturous in Minnesota and Rhode Island, it is just getting underway in Ohio. On Wednesday, state Sen. Tom Roberts (D-Trotwood) announced details of his proposed Ohio Medical Compassion Act during a press conference at the state capitol in Columbus. Under Roberts' bill, the state Health and Agriculture Departments would be authorized to set up an advisory board to:
Consider granting medicinal use of cannabis in cases of debilitated medical conditions.
Consider applications for and renewals of registry identification cards for qualified patients and primary caregivers.
Provide recommendations for the safe use and efficient growing of medicinal cannabis.
"Our laws should reflect the latest in medical research, which has shown that medical cannabis has a variety of benefits for treating pain, nausea and other symptoms related to a wide range of disease," Roberts said in a prepared statement. "In an era of scientific breakthroughs and medical advances, patients should not be put in the position of choosing between living a normal life and living a healthy life," Roberts said.
"We took what we thought was the best of other medical marijuana laws and created this bill," said Tonya Davis, director of advocacy for the Ohio Patient Network [18]. Davis, a chronic pain sufferer who is unable to walk, was optimistic about the bill's prospects. "This time around we have a cosponsor and more support in the Senate than ever before," she said.
For Davis, access to medical marijuana is a quality of life issue. With medical marijuana, she can reduce her reliance on other medications, she told the Wednesday press conference. "I require medical marijuana to maintain a lifestyle with dignity," Davis said.
The Ohio bill will likely face the same long and twisting legislative path that medical marijuana has followed in any number of statehouses. Whether it becomes law this year seems unlikely, but experience has shown that getting bills through is typically a multi-year process.
And that's something to remember in Minnesota and Rhode Island, too, not to mention other states, such as Illinois, New Jersey, and New York, where bills are active this year, said MPP's Mirken. "I understand the frustration, but we've seen before that it typically takes several years to get medical marijuana passed. Elected officials by and large still think medical marijuana is more controversial than it is. It's never easy," he said.
Still, said Mirken, time and the angels are on the side of the movement. "There is no question the historical tide is with us. It's just that sometimes it moves more slowly than we would like."