A state-sanctioned needle exchange program envisioned for Bexar County (greater San Antonio) under legislation passed last year will not happen -- at least not this year. Texas Attorney General Greg Abbott Monday issued an opinion [15] saying that state drug laws blocked the program from moving forward.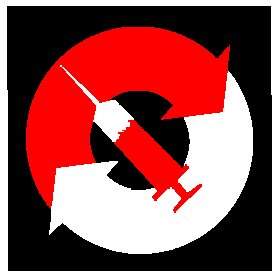 The needle exchange program was envisioned to help slow the spread of HIV/AIDS and Hepatitis C among injection drugs users and would have been the first official program in Texas, which is the only state in the nation without one. The law was scheduled to take effect last September, but was put on hold after Bexar County District Attorney Susan Reed raised objections in August, saying that it would be illegal to conduct such a program because, in her opinion, the law was defective. That sparked State Senator Jeff Wentworth's request for an attorney general's opinion.
In addition to blocking the needle exchange program, the attorney general's opinion also opens the way to the vindictive prosecution of Bill Day, a 73-year-old AIDS sufferer who was ticketed along with two other people earlier this year for passing out clean needles. District Attorney Reed, a Republican who has warned she would arrest anyone trying to hand out needles, stayed Day's case pending Abbott's opinion, but is now likely to move forward with it.
While Day faces up to a year in jail if convicted of violating Texas drug paraphernalia laws, that's unlikely, First Assistant District Attorney Cliff Herberg told the Dallas Morning News [16]. "Nobody expects that Mr. Day will go to jail," said Herberg. "If people think that he's well-intentioned, that's a punishment issue, not a guilt or innocence issue."
In his opinion, Abbott wrote the law passed last year was not written clearly enough to protect needle exchange participants from prosecution because it said only that the county health department "may" set up a needle exchange, not that it "will" set one up. While the legislature may have intended to set up a program, it needs to redraft the law to fix the language, he said.
Rep. Ruth Jones McClendon (D-San Antonio), the legislation's main sponsor, vowed to make fixing it one of her top priorities next year. "Obviously, I am terribly disappointed," she told the Morning News. "The outcome [with the needle exchange] would have been much more effective in saving thousands of lives and saving millions of taxpayer dollars at the same time."