Nearly a year ago, we reported on mounting efforts to ban salvia divinorum [15] in states and localities around the country. Since then, the war on the hallucinogenic plant has only intensified, despite the lack of any evidence that its use is widespread or that it has any harmful physical effects on its users.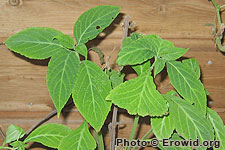 Salvia is a member of the mint family from Mexico, where it has been used by Mazatec curanderos (medicine men) for centuries. Within the past decade, awareness of its powerful hallucinogenic properties has begun to seep into the popular consciousness. Now, it is widely available at head shops and via the Internet, where it can be purchased in a smokeable form that produces almost instantaneous intoxication and a freight train of a trip lasting a handful of minutes.
Fueled largely by the appearance of salvia-intoxicated youths on YouTube (there were some 3,500 such videos at last count), law enforcement's reflexive desire to prohibit any mind-altering substances, and legislators' wishes to "do something" about youth drug use, efforts to ban the plant are spreading. While some states have stopped at limiting salvia's use to adults, most recently Maine, more have banned it outright. Legislative measures affecting salvia have been filed in 16 more states too, as well as a number of towns and cities.
In 2005, Louisiana became the first state to ban salvia, making it a proscribed Schedule I controlled substance. Since then, Delaware, Michigan, Missouri, North Dakota, and Tennessee have joined the list. (Tennessee bans ingestion -- it's a Class A misdemeanor -- but not possession. All the others excepting North Dakota have placed it in Schedule I.) In Oklahoma, only concentrated salvia is banned. Salvia is also a controlled substance in Australia, Belgium, Denmark, Estonia, Finland, Italy, Spain and Sweden.
The press has also played a role in stoking fears of salvia and misstating its popularity. "Salvia: The Next Marijuana? [16]," asked the Associated Press in a widely-reprinted story earlier this month.
Chris Bennett, proprietor of Urban Shaman Ethnobotanicals [17] in downtown Vancouver, just laughed at the "salvia is the next marijuana" meme. "Anyone who says that is demonstrating their complete lack of knowledge of either salvia or marijuana," he said. "There is just no comparison. Cannabis is a mild relaxant and euphoric, while salvia is a very fast-acting visionary substance where some people report out of body experiences."
Researchers say that while salvia's effects on consciousness may be disquieting, the plant has not been shown to be toxic to humans, its effects are so potent is unlikely to be used repeatedly, and its active property, salvinorin A, could assist in the development of medicines for mood disorders. While action at the state level would unlikely affect research, a move by the DEA to put it on the controlled substances list could.
There are hazards to messing with hallucinogens, one expert was quick to point out. "It's an hallucinogen, and while its hallucinogenic actions are different from those induced by LSD and other hallucinogens, it has the liabilities that hallucinogens do," said Bryan Roth, a professor of pharmacology at University of North Carolina's School of Medicine, the man who isolated salvinorin A. "When people take it, they are disoriented. If you don't know where you are and you're driving a car, that would be a bad experience."
Still, said Roth, while it may make you freak out, it isn't going to kill you. "There is no evidence of any overt toxicity, there are no reports in the medical literature that anyone has died from it. The caveat is that there have been no formal studies done on humans, but the animal data suggests that it doesn't kill animals given massive doses, and that's usually -- but not always -- predictive for human pharmacology."
The DEA has been evaluating salvia for several years now, but there is no sign that it is ready to take action. "Salvia is a drug we are currently looking at to see if it should or should not be scheduled," said Rogene Waite, a spokesperson for the DEA, which is tasked with evaluating potential drug "threats." The agency has initiated the process of evaluating the eight factors [18] listed in the Controlled Substances Act in determining whether or not to schedule a drug, she said. "There is no time frame or limit on this process," she said, providing no further hint on when or if ever the DEA would move to add salvia onto the federal list of controlled substances.
But legislators across the land are not waiting for the DEA. In California, Assemblyman Anthony Adams (R-Hesperia) introduced a bill that would ban salvia for minors at the urging of the San Bernardino County Sheriff's Department, he told the Riverside Press-Enquirer [19]. "If you have the opportunity to get in front of an emerging drug, I think, geez, you should do that," said Adams, whose district includes San Bernardino and Redlands.
On the other side of the country, Massachusetts state Rep. Vinny deMacedo (R-Plymouth) is cosponsoring legislation that would criminalize salvia possession. "I believe by not making this drug illegal we are sending a message to our youth that it is okay, and there is no way that a drug that causes such mind altering effects on an individual should be considered legal," deMacedo told the Plymouth News [20].
Again, legislators took action after being alerted by law enforcement. DeMacedo said he agreed to sponsor the bill after hearing from Plymouth County Sheriff Joseph MacDonald. "I'd never heard of it before," deMacedo said. "It creates this psychedelic-type, mind-altering high, similar to LSD. I thought, 'You've got to be kidding. Something like this is legal?'"
In Florida, Rep. Mary Brandenburg wants to save the kids by sending anyone possessing salvia to prison for up to five years. "As soon as we make one drug illegal, kids start looking around for other drugs they can buy legally. This is just the next one," she explained.
While legislators attempt to stay ahead of the curve by banning any new, potentially mind-altering substances at the drop of hat, their efforts are misdirected, said Urban Shaman's Bennett. The YouTube kids may be the public face of salvia, but they are only a minority of users, he said. "It's all ages," he said, adding that his store does not sell to people under 18. "Every time there is some media attention, I get a bunch of middle-aged people coming in and asking for it."
Salvia is not a party drug, said Bennett. "The most serious users are people seeking a classic shamanic experience, seeking a visionary experience as part of their spiritual path. They feel they're accessing a higher level of consciousness," he explained. "And even they don't seem to use it more than once a month or so."
For all the commotion surrounding salvia, there is very little evidence of actual harm to anyone, said Bennett. "You'll notice you don't hear anybody talking about organic damage to the human organism," he said. "This is all purely fear and loathing of people having a visionary experience."
What little data there is on salvia use and its effects tends to bear him out. There are no reported deaths from salvia use, with the exception of a Delaware teenager who committed suicide in 2006 at some point after using it. (That unfortunate young man is widely cited by the proponents of banning salvia, even though there is no concomitant wave of salvia-linked suicides. Also, he was reportedly taking an acne medication linked to depression [21] and had been using alcohol.) Users are not showing up with any frequency in mental hospitals or hospital emergency rooms.
While the YouTube kids may present a problematic public face of salvia use, there's not much to be done about that, said Bennett. "You can't control that," he shrugged. "And so what? Some kids are having a powerful visionary experience for five minutes on YouTube. Why is that somehow more threatening than watching someone in the jungle take ayahuasca or something on National Geographic?"
Bennett, for one, has no use for a ban on salvia -- or any other plant, for that matter. "We have a fundamental natural right to have access to all plants, and I don't care if it's salvia or marijuana or poppy or coca. That's just as clear-cut as our right to air and water," he said.
But Bennett's perspective is not one widely shared by legislators in the US. Instead, they reflexively reach to prohibit that which they do not understand. And the very "kids" they claim to be saving will be the ones going to prison.