President Bush and Office of National Drug Control Policy (ONDCP) head John Walters rolled out the 2008 US National Drug Control Strategy [13] over the weekend. While the administration used the strategy to defend its policies and make some claims of victories in the war on drugs, critics called the strategy misguided, dishonest, and an exercise in propaganda.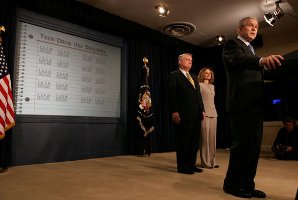 "Today, my administration is releasing our 2008 National Drug Control Strategy," President Bush said in his weekly Saturday radio address. "This report lays out the methods we are using to combat drug abuse in America. And it highlights the hopeful progress we're making in the fight against addiction. Overall, an estimated 860,000 fewer young people in America are using drugs today than when we began these efforts."
The administration drug strategy has three key elements, Bush said: disrupting supplies, reducing demand, and providing treatment. "Our drug control strategy will continue all three elements of this successful approach," he said. "It will also target a growing problem -- the abuse of prescription drugs by youth."
The administration's drug strategy is working, claimed Bush and ONDCP, citing declines in youth marijuana, methamphetamine, and Ecstasy use. The strategy also pointed to short-term declines in cocaine and methamphetamine purity and availability, but acknowledged an increase in the misuse of prescription drugs.
"Teen drug abuse is down sharply, and this will provide lasting benefits to our nation, since we know that most adults who get caught in addiction begin with use as teens," said Walters. "But there are still too many of our friends, our family members, our coworkers and our neighbors who are becoming lost in the maze of addiction. We need to find whatever ways we can to create a turning point in their lives -- a turning point that leads to recovery."
"Prescription drugs provide tremendous benefits to our nation," said Walters, "but when misused or abused they can lead to addiction, and worse. We are working with leaders in Congress to modernize our laws to address the problem of 'rogue online pharmacies' which skirt around the safeguards of legitimate medical practice and prescriptions. Prescription drug abuse is an area of serious concern, and we are now focusing our nation's supply, demand, and prevention policies with the goal of seeing the same reductions that we have achieved for illegal 'street' drugs."
But despite new emphases like that on prescription drugs, the 2008 strategy is largely more of the same old drug policies. It touts programs like the National Youth Anti-Drug Media Campaign, random drug testing of students and workers, drug courts, and continued interdiction, eradication, and domestic law enforcement.
And critics call even its claims of success into question. "This isn't a strategy, it's a grab bag," said Doug McVay, research analyst for Common Sense for Drug Policy [14]. "Anything they can spin as positive, they do. All in all, it's mainly a cute little propaganda piece. And what it obscures is the sad fact that they have gone back to that same old two-to-one spending ratio that favors law enforcement over prevention and treatment."
In an analysis [15] by Appalachian State University criminal justice professor Matthew Robinson, coauthor of "Lies, Damned Lies, and Drug War Statistics: A Critical Analysis of Claims Made by the Office of National Drug Control Policy," Robinson dissects the strategy and finds it wanting on many grounds.
Although teen marijuana and other illicit drug is indeed down during the Bush administration, prescription drug abuse is up, as the strategy acknowledges. That makes it difficult for the administration to honestly claim that teen drug use is down, Robinson suggested.
"Since this is the same time during which youth use of various drugs fell, is it possible youth began using more non-medical pain relievers as a form of drug substitution? ONDCP provides no evidence to assess this possibility," Robinson noted. "In the 2008 Strategy, ONDCP still does not consider the possibility that young drug users have not really stopped using illicit drugs like LSD, Ecstasy or meth, but instead have merely switched to more readily available prescription drugs. If true, this would suggest drug replacement rather than successful prevention."
Similarly, ONDCP's claim that drug use is down is the result of cherry-picking statistics, Robinson argued. While claiming success in reducing overall drug use, ONDCP only provides numbers on teen drug use -- not adult drug use.
"It is dishonest of ONDCP to claim success in meeting its goals of reducing drug use by 10% and 25% over two and five years, respectively, when ONDCP is only assessing drug use trends for young people and not adults," Robinson pointed out. "How can we know if ONDCP's efforts work when we are only shown data on youth drug trends and not adult drug trends?"
"ONDCP likes to play goofy with the math," said Allen St. Pierre, executive director of NORML [16]. "NORML has been looking at these things for 30 years now, and they never achieve their stated goals. These guys have a $23 billion a year budget. If they were in corporate America, they would have been fired for incompetence."
The strategy's claim that it is balancing treatment, prevention, and law enforcement is also belied by the hard numbers, Robinson wrote. Despite budgetary sleight of hand beginning in 2003 that makes the proportion of drug war spending devoted to treatment and prevention appear larger than it really is, the treatment and prevention share of the budget continues to decline, with law enforcement -- the drug war -- garnering 65.2% of the overall budget next year, up from 56% in 2003.
"Unfortunately for ONDCP and our nation, research shows that the most effective and cost-effective drug reduction approaches are demand side approaches such as prevention and treatment," Robinson noted, adding that research has shown both treatment and prevention provide more bang for the buck than spending on law enforcement. "Most of the money in ONDCP's FY 2009 drug war budget is truly intended for 'fighting' the drug war, not for those efforts that are more cost-effective and efficacious -- preventing drug use and drug abuse and for healing drug abusers through treatment."
For NORML's St. Pierre, the strategy's section on medical marijuana was especially offensive. Titled "The Medical Marijuana Movement: Manipulation Not Medicine," the boxed section had little to do with policy but much to do with politics. It attacked medical marijuana, suggesting that each California patient was receiving 41 joints a day, and cited San Diego police complaining about nuisances around dispensaries.
"The section in there about medical marijuana is utterly gratuitous," said St. Pierre. "It doesn't have anything to do with the drug strategy; it is essentially just bullet talking points. And it is just downright silly. They try to say there are only 13,000 medical marijuana patients in California when we know the real number is probably ten times that. There are almost 19,000 patients in Oregon. It is utterly disingenuous of ONDCP to base its California numbers on a patient registry there, when there is no statewide registry."
ONDCP might have talked to other police departments in California that are not hostile to medical marijuana, unlike the San Diego police, who cooperated with federal agents to raid dispensaries there, said St. Pierre. "Did they talk to police in San Francisco or Los Angeles or even Modesto?" he asked. "Again, it looks like they are cherry-picking."
The drug strategy is 79 pages packed with figures, charts, and assertions. This article has only skimmed the surface of the claims and counterclaims around it. Readers who want to dig deeper are invited to read both the strategy and Robinson's analysis for more detail.
In the meantime, Robinson donned his professor's cap and tried to come up with a letter grade for the drug czar's effort. "I might give them a D for effort because the report is well-documented and has lots of pretty graphs in it," said Robinson, "but overall, it's just dishonest, so I would have to give them an F," he concluded.
To earn a passing grade, the drug strategy would have to be revamped, Robinson said. "It would need to clearly state the goals and budget of the drug war, and then it would report data on each of the goals, all the relevant data on drug use trends for every drug and age group, and data on availability, price, and purity for drug seizures. It would also present information on the cost of the drug war, including law enforcement and incarceration costs; deaths and illnesses associated with drugs, and data on crime and violence. It would have to be much more comprehensive, with all available data reported and long-term trend analyses," Robinson said.