For the second time in as many weeks, Venezuelan President Hugo Chávez has used a public forum to come out as a regular coca chewer. Last week, we reported on Chávez' declaration during a recent televised speech that he chewed coca [13]. He was at it again last Saturday.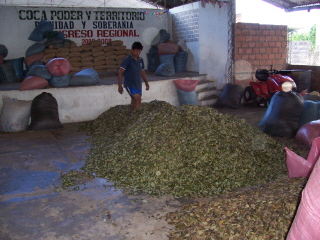 During another televised speech, this time at a summit of Latin American leftist leaders in Caracas, Chávez popped a coca leaf into his mouth and chewed it while defending the plant. According to a
Reuters account
[14]
, Chávez thanked Bolivian President Evo Morales, a former coca grower union leader and defender of the plant, for bringing him more.
"I knew you wouldn't let me down, my friend, I was running out," Chávez said as he received the leaves from Morales during the televised summit. Chávez then broke one leaf in half and chewed it to the applause of attendees. "Capitalism and international mafias have converted it into cocaine, but coca is not cocaine," he said.
John Walters, the US drug czar, last week accused the Chávez government of "colluding" in the cocaine traffic from neighboring Colombia. Venezuela denied that charge, accusing the US of a smear campaign and unwarranted interference in Venezuela's internal affairs.
Opposition politicians in Venezuela this week said Chávez should take a drug test. But given that Chávez has openly admitted -- twice--that he is a regular coca leaf chewer, one has to ask what the point would be. And once again, Washington's bête noire in Latin America pokes Washington -- and the 1961 UN Single Convention on Narcotic Drugs -- in the eye.