A major pharmaceutical company settles with the state of New York over opioid distribution, Minnesota lawmakers are on the verge of passing policing reforms, and more.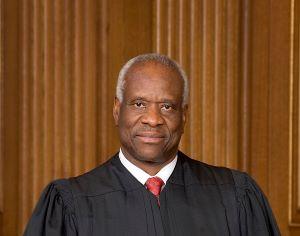 Marijuana Policy
Clarence Thomas Says Federal Marijuana Prohibition May No Longer Make Sense. One the Supreme Court's most conservative justices said Monday that because marijuana is already legalized either medically or recreationally in a growing number of states, federal pot prohibition may no longer make sense. "A prohibition on interstate use or cultivation of marijuana may no longer be necessary or proper to support the federal government's piecemeal approach," wrote Justice Clarence Thomas as the high court declined to hear the appeal of a Colorado medical marijuana dispensary that was denied federal tax breaks. "Federal policies of the past 16 years have greatly undermined its reasoning," he said. "The federal government's current approach is a half-in, half-out regime that simultaneously tolerates and forbids local use of marijuana."
Heroin and Prescription Opioids
Johnson & Johnson Settles With New York for $230 Million, Agrees to Stop Selling Opioids. Pharmaceutical company Johnson & Johnson has agreed to a $230 million settlement with the state of New York over its role in the country's opioid crisis, which has led to nearly half a million dead of overdoses in the past two decades. As part of the settlement, the company agreed to not promote opioids and confirmed it has quit distributing them in the US. Pharmaceutical companies and distributors have faced a barrage of lawsuits over opioids, with governments arguing that the companies pushed the drugs and caused people to become addicted and then turn to illegal opioids as states and the federal government cracked down. The companies argued that they were distributing medically necessary opioids for people who need them. The crackdowns on opioid prescribing have left one group of people in particular in the lurch: chronic pain patients, who must seek opioids and doctors willing to prescribe them in large quantities in the midst of the retrenchment.
Law Enforcement
Minnesota Lawmakers Reach "General Agreement" on Policing Reforms. Legislative leaders of both the Democratic Farm Labor Party and the Republicans have reached "general agreement" on a broad-ranging police reform bill, leaders of both parties said late Saturday. Among other things, the bill would restrict the use of no-knock warrants, civil asset forfeiture reforms (but not an outright ban), reforms of fines and fee structures, restrict the use of confidential informants to better protect them, and make modifications to state police misconduct database to create an early warning system to keep bad cops off the street. The legislature is working under a deadline: If the broader public safety bill that includes the policing reforms is not passed by Wednesday, key government public safety functions, such as running state prisons and the State Patrol, would theoretically face shutdowns. But Gov. Tim Walz (DFL) said he will keep those operations functioning, even if that is legally questionable.
International
US Drug Czar's Office Says Colombia Coca Cultivation Expanded Last Year. Colombian coca cultivation increased 15% last year and potential cocaine production rose 7.9% to around a thousand metric tons, the White House Office of National Drug Control Policy (ONDCP -- the drug czar's office), said Friday. The report from ONDCP differed from a report issued by the UN Office on Drugs and Crime (UNODC) released on June 9, which had a lower figure for crop cultivation but a higher figure -- 1,228 metric tons -- for potential cocaine production. In either case, Colombia remains the world's largest coca and cocaine producer, ahead of second place Peru and third place Bolivia.
Cuba Reiterates Zero Tolerance Drug Policies. Cuba used the occasion of the UN's International Day Against Drug Abuse and Illicit Trafficking on Saturday to make clear that its zero tolerance policy toward drug use, production, and trafficking remains unchanged. In a tweet, Foreign Minister Bruno Rodríguez vowed that the island nations will never be a place to use, store, or traffic illicit drugs.