Alaska regulators want to ban marijuana social clubs, Chris Christie signs a bill allowing methadone in drug court programs, a new report says Illinois needs to do better on heroin treatment, Russia wants to censor Reddit, and more.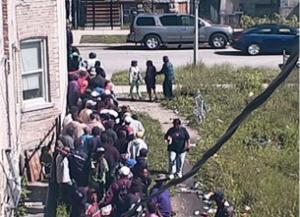 Marijuana Policy
Alaska Regulators Want to Ban Marijuana Social Clubs. The Marijuana Control Board has presented its final set of proposed regulations and is generating controversy with a provision that bans social clubs. The board argues that since Alaska law doesn't allow BYOB bars, it shouldn't allow BYOM clubs.
California Governor Signs Law Targeting Illegal Pot Grows. Gov. Jerry Brown (D) last Friday signed a law that will impose steep fines on marijuana grows that cause environmental harm by dumping chemicals and wastewater, removing trees, and killing animals. The measure is Senate Bill 165. Last year, investigators found more than 135 dams or diversions in rivers and streams linked to marijuana cultivation, resulting in the theft of about five million gallons of water.
California Governor Signs Bill to Increase Penalties for Residential Butane Hash Oil Manufacture. Gov. Brown also last Friday signed Senate Bill 212, which will increase penalties for people caught making butane hash oil. The process has been linked to numerous fires and explosions in the state.
Medical Marijuana
Massachusetts Advocates Protest Slow Pace of Medical Marijuana Implementation. Led by the Massachusetts Patient Advocacy Alliance, protestors held a vigil on the stops of the State House this week in memory of patients who had died before they could get access to medical marijuana and to protest the slow pace of implementation of the state's medical marijuana law. Three years after voters approved it, the state's first dispensary just opened. Click on the link for more.
Drug Courts
New Jersey Governor Signs Bill Allowing Medication Assisted Treatment in Drug Courts. Gov. Chris Christie (R) has signed into law Senate Bill 2381, which will allow people under the jurisdiction of the state's drug courts to complete their programs while using opiate-substitution medications, such as methadone and buprenorphine. Despite decades of evidence and the recommendations of treatment providers and even the National Association of Drug Court Professionals, most drug courts in the state required clients to quit medication-assisted treatment to complete the program. "Medication assisted treatment for drug court attendees, like all other clinical decisions made by a provider for their patient, is a critical component in a person's treatment and recovery plan. I thank the governor for his support of this legislation and his continued leadership and support of Drug Court programs," said Senator Joseph F. Vitale (D-Middlesex).
Drug Treatment
Illinois Doesn't Adequately Fund Drug Treatment and Wants to Cut It Even More, New Report Says. A report released today by the Illinois Consortium on Drug Policy found that the state ranked 44th in the nation in state funded treatment admissions for heroin and that Gov. Bruce Rauner's (R) proposed budget would slash funding by another 61%. Chicago ERs rank first in the country in emergency room visits for heroin use, and Cook County is number one in the nation for arrestees who test positive for the drug. Click on the consortium link to read the report.
Law Enforcement
Maine Governor Threatens to Call in National Guard to Fight Drugs. Tea Party Gov. Paul LePage (R) today reiterated his threat to call in the National Guard to fight the state's "drug epidemic" if legislators don't give him his way. The legislature has rejected his repeated demands that it deal with the drug issue primarily by hiring more agents at the Maine Drug Enforcement Agency, and while it did agree to fund six additional agents, two prosecutors, and two judges, that wasn't enough for LePage, who called it "chump change." It's not clear just what LePage what have the Guard do. Click on the link for much more.
International
Australian Parliamentary Committee Approves Medical Marijuana. The Senate Legal and Constitutional Affairs Committee has recommended that a Green-sponsored medical marijuana bill be passed. The committee called for the bill to be amended to set up a medical marijuana regulatory agency. The bill has cross-party support in the parliament.
Russia Threatens to Block Reddit Over Single Thread on Drugs. The Kremlin's increasingly busy Internet censor has warned that the popular website Reddit will be blocked unless it deletes a thread about growing marijuana plants. The censor said Reddit has so far failed to respond to demands that it delete the thread and asked readers to reach out to Reddit to tell its editors to check their emails. The censor has also blocked Wikipedia pages about how to smoke pot, online anonymity services, Pirate Bay, and made similar threats against YouTube.
(This article was prepared by StoptheDrugWar.org's lobbying arm, Drug Reform Coordination Network, which also pays the cost of maintaining this web site. DRCNet Foundation takes no positions on candidates for public office, in compliance with section 501(c)(3) of the Internal Revenue Code, and does not pay for reporting that could be interpreted or misinterpreted as doing so.)