Medical marijuana has made great inroads in parts of the United States. With the exceptions of Idaho, Utah, and Wyoming, the West is medical marijuana country. The Northeast is also trending that way, with Massachusetts looking likely to join the ranks come election day, while Michigan represents medical marijuana's first acceptance in the Midwest.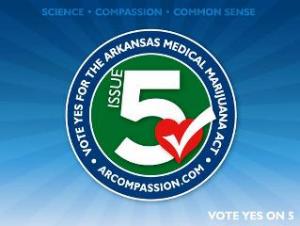 The South remains the last region of the country without a medical marijuana state, but that could well change on November 6, when voters in Arkansas will have the chance to approve a medical marijuana initiative there.
Sponsored by
Arkansans for Compassionate Care
, the
Arkansas Medical Marijuana Act
(Issue 5 on the ballot) would allow patients suffering from a specified list of diseases and conditions to use and possess marijuana on a doctor's recommendation after registering with the state Health Department. Patients would obtain marijuana from state-regulated non-profit dispensaries. Only those patients living more than five miles from a dispensary could grow their own or have a caregiver grow it for them, and they would be limited to six plants per patient.
The campaign is counting on the compassion of Arkansans to bring it to victory in November and is highlighting the plight of patients like
Emily Williams
, a Fayetteville wife and mother diagnosed with lymphoma in 2010. Williams underwent extensive chemotherapy, resulting in extreme nausea, headaches, and general lethargy. She was unable to eat, drink, or take any medications because of the side effects, and anti-nausea agents her doctors prescribed didn't help.
"I had an intravenous medication, a pill, a patch, and a tablet which dissolved under my tongue, but none of them changed any of my symptoms," she said, explaining how she reluctantly turned to medical marijuana. "I knew I was putting my family at risk. We could have been arrested or lost our property, but I was dying and nothing else was working."
Medical marijuana worked. "Within 10 minutes, my headache was gone, my nerves were relaxed, the pain in my body was gone, and the nausea was totally gone, it totally disappeared," she said. "It allowed me to live a normal life. I was able to eat dinner with my family, and to be more active."
But the risk from marijuana's illegality was too much for Williams. She refused to use it during her last round of chemotherapy because of fears for her family, and paid a price. The anti-nausea drugs still didn't work, she lost ten pounds in a week, and her recovery was unnecessarily prolonged.
"Marijuana helped me live a normal life during my battle with cancer, but it was too risky," she explained. "I was offered marijuana during my last treatment, but I couldn't bring myself to put my family in jeopardy. I would have recovered much more quickly. I would have been able to eat, sleep, and continue through my treatment without struggling as much. Patients shouldn't suffer because of the law. Why can't there be some other possibility?"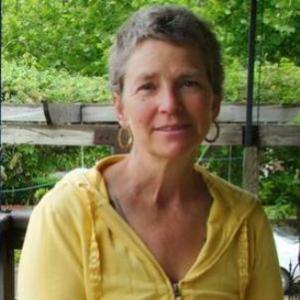 The campaign is counting on stories like Williams' to turn a neck-and-neck race into a victory on November 6. The only recent poll on the initiative, a
Talk Business-Hendrix College poll
in July, had it eking out a one-point lead at 47% to 46%, with 7% undecided, but the campaign said it thought support had only increased since then.
"I suspect that number has changed quite a bit," said campaign strategist Chris Kell. "Once we got the signatures, we also got a phenomenal amount of attention, and it's hard to say no to the stories of these patients. Now, people are hearing about the initiative, they're visiting the web site, and we're going to be tugging pretty heavy at their heartstrings."
It's all out for the final push to victory now, he said.
"We've overcome so many hurdles, we're really excited, and we're ready to take this campaign to the ground," Kell exclaimed. "The response so far has been very favorable, and I'm confident we can get this thing passed in November. We hope to be a model for all the other Southern states."
The final hurdle overcome was a lawsuit filed by the social conservative Arkansas Family Council Action Committee that sought to keep the measure off the ballot by challenging the ballot language. The state Supreme Court rejected that effort last week.
"This is about legalizing marijuana," Family Council Action Committee head Jerry Cox told the
Ozarks Times
in August when the challenge was filed. "It's just a matter of legalizing it in degrees. I think you'd find, if you asked around, that a lot of the same folks who support this support total legalization of marijuana for any purpose. I believe their real agenda is to have marijuana be as legally available as tobacco."
The
Marijuana Policy Project
contributed money to help gather the signatures to get the measure on the ballot and helped with the court challenge, but the campaign is now looking for more money to get some advertising on the airwaves before the election.
"All the money we were expecting from various folks got tied up with that lawsuit," Kell explained. "Nobody wanted to give money until they were sure it was actually on the ballot. Now that it is, we will have an effort to raise enough money so that we can hopefully have a paid media campaign in the last week."
If they do manage a paid media campaign, it looks like it will be the only one. Aside from the Family Council, organized opposition is scarce.
"We haven't seen any real law enforcement opposition yet, and some on the ground will tell us quietly they are for it, that they don't want to have to arrest people who have small amounts for medicinal purposes," said Kell. "The only organized opposition even on a minor level is coming from people who benefit from keeping this illegal, treatment centers and that kind of thing."
Kell wasn't too worried about the family values crowd and its use of the bully pulpit to encourage "no" votes.
"We're not really all that concerned with them," he said. "When you go into that voting booth, that's a private deal. You can have a faith leader tell you one thing, but you can still vote your conscience. Plus, we have our own clergy getting the word out, and if you have any compassion at all, it's hard to say no."
Arkansas is generally considered a conservative state, but that's not completely true, Kell said, noting that it had elected and reelected liberal Bill Clinton governor, then followed that up by electing social conservative Mike Huckabee as his replacement.
"Arkansas is a strange state politically," he said. "We've been getting as much help from the conservative side as from the liberals. People could cross party lines to vote for this in large numbers. The voters here are pretty pragmatic and well-informed when they vote. I think they will vote for compassion."
In little more than a month, we will see if Arkansas will lead the South toward the medical marijuana promised land.