In an attempt to provide some specifics for Republican promises to reduce the budget deficit by cutting federal spending, the conservative Heritage Foundation has issued a backgrounder report saying Congress should eliminate the Office of National Drug Control Policy (the drug czar's office), the Safe and Drug-Free Schools and Communities state grant program, and all Justice Department grant programs, except those for the Bureau of Justice Statistics and the National Institute of Justice. That means the drug task force-funding Justice Assistance Grants (JAG, formerly known as the Byrne grant) are on the chopping block, too.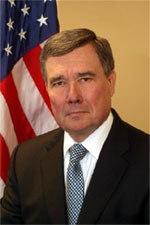 The report said the federal government could cut a whopping $434 billion and the savings could come from eliminating waste, fraud, abuse, and outdated or ineffective programs;consolidating duplicative programs, targeting programs more precisely, privatization, and "empowering state and local governments" by reducing federal funding for them.
Taxpayers could save $30 million by axing the "duplicative" drug czar's office and $298 million by eliminating the Safe and Drug Free Schools state grants, which are used for violence and drug and alcohol prevention programs. The Byrne grant program, which can also be used to fund drug treatment and prevention, is set at $598 million in the Obama administration's FY 2011 budget request.
The drug budget cuts are only a tiny fraction of the $343 billion that Heritage said should be cut. The report takes the budget ax to nearly $20 billion in agriculture funding, nearly $8 billion in community development grants, nearly $8 billion in federal education spending, more than $7 billion in energy and environmental spending, nearly $92 billion from federal government operations (including federal employee pay freezes), and nearly $7 billion by cutting federal job training and Job Corps funds.
If the cuts proposed by the Heritage Foundation in its entirety were to be enacted, they would radically shrink the federal government and redraw the picture of what the people expect from government. But the Republicans only control one chamber of Congress, some of the proposed cuts could lead to dissent even within GOP ranks, and Democrats and people who stand to lose out are sure to fight them.

Still, it would be nice if the spirit of bipartisanship could prevail long enough to begin closing the book on decades of wasted and counter-productive federal drug prohibition spending, even though we wouldn't want to see proven prevention programs slashed.