by psmith, May 05, 2023, 04:49pm, (Issue #1186)
Last November, Maryland voters made it abundantly clear that they wanted marijuana legalization by approving a referendum to that effect. On Wednesday, with the signing of enabling legislation by Gov. Wes Moore (D), the legislature and the executive branch have enacted the expressed will of the voters, laying the groundwork for a state system of taxed and regulated marijuana sales.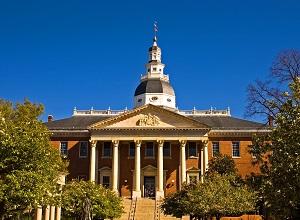 They had to hustle to get something in place before the legalization of marijuana possession goes into effect in July, and with the passage of
Senate Bill 516
/
House Bill 556
, they have done so. It did not happen without a bunch of wrangling at state house, as the House and Senate modified the bills and then had to compromise to reach agreement, but now it has happened.
"The criminalization of marijuana harmed low-income communities and communities of color in a profound way," Moore said at a signing ceremony Wednesday. "We want to make sure that the legalization of marijuana lifts those communities now in a profound way." The new law will "ensure that the rollout of recreational cannabis in our state drives opportunity in an equitable way," he added.
Here are key provisions of the new law:
A new, independent Maryland Cannabis Administration will be responsible for regulating the program.
Sales will begin on July1, with existing medical marijuana dispensaries being licensed to sell to the adult recreational market. Licensing of additional marijuana businesses will come no later than July 1, 2024.
Licenses will be capped at 300 retail shops, 100 processors, and 75 growers. Additionally, there will be 10 retail, 100 processor, and 100 grower licenses for "microbusinesses."
Retail marijuana sales will be taxed at 9 percent, with 35 percent of those revenues going to a community reinvestment fund. Counties, the Cannabis Public Health Fund and the Cannabis Business Assistance Fund will each get five percent of revenues. Localities cannot impose additional taxes.
Applicants claiming social equity status will have to have 65 percent ownership by people who lived at least half of the last decade in disproportionately impacted areas or who attended public school in one of those areas for at least five years. Social equity applicants will be eligible for a Capital Access Program to provide low interest loans and promote industry opportunities. Additionally, beginning in 2025, existing medical marijuana dispensaries that form "meaningful partnerships" with social equity applicants will be eligible for grants for which $5 million will be appropriated each year.
Delta-8 hemp products will no longer be sold in the open market, but will have to be sold through licensed marijuana businesses.
Medical marijuana patients will see the number of plants they can grow double from two to four, but only patients will be able to grow their own.
New marijuana retailers will face geographic restrictions. They will have to be at least 1,000 feet apart from each other and cannot be within 500 feet of a school, childcare facility, playground, recreational center, library or public park.
To avoid monopolization, a single business will not be able to operate more than four retail shops.
Marijuana smoking will not be allowed indoors at consumption lounges, but only outdoors.
Smoking will not be permitted indoors at on-site consumption facilities, but people could do so on outdoor patios at licensed facilities.
And Maryland now hops with both feet on the legal marijuana bandwagon.
back to top