Last week, South Carolina Gov. Nikki Haley was caught falsely claiming high rates of positive drug tests among prospective workers at the Savannah River Site as she enthusiastically endorsed requiring people seeking unemployment compensation to pass drug tests. On Monday, though, the conservative Republican was forced to concede she couldn't back up her claims.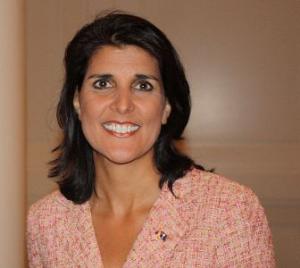 In an
interview with the Associated Press
, Haley said she had repeated "a million times" without challenge her claim that "half" of workers applying for jobs at the Energy Department facility had failed drug tests, but that she had now learned her lesson and will be more careful in the future.
"I've never felt like I had to back up what people tell me. You assume that you're given good information," Haley said. "And now I'm learning through you guys that I have to be careful before I say something."
She told the AP she was frustrated by being unable to document claims that have shaped her policy perspectives, including the demand for drug tests to receive unemployment benefits. She said she had met with people at the Savannah River Site as she campaigned for governor.
"We were on the site. There were multiple people in there. And that comment that they made had a huge impact on me," Haley said. "It is the reason you're hearing me look into whether we can do drug testing. It's the reason you hear me focus so much on job training," Haley said. "Somebody can't say that and it not stick you in the gut."
Even as she backtracked, Haley tried to blame Savannah River Site personnel. "Now they're all backing off saying it. And they know they said it," Haley said. "But now they don't have the backup."
The Department of Energy said that less than 1% of workers hired there failed pre-employment drug tests. Faced with that glaring contradiction between her initial claims and reality, Haley said she was done with that talking point.
"I'm not going to say it anymore," she said. But she still supports drug testing of people seeking unemployment benefits.