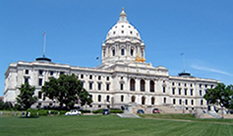 The Minnesota medical marijuana bill,
SF 97
, cleared its fourth and final Senate committee hurdle Thursday, winning approval of the Senate Finance Committee on a 9-3 vote. It is now headed for a Senate floor vote.
"I am delighted that this compassionate, sensible bill is now on its way to the Senate floor," said bill sponsor Sen. Steve Murphy (DFL-Red Wing). "With Michigan's medical marijuana law taking full effect this weekend, I am increasingly optimistic that Minnesota will soon become the 14th state to get politics out of the doctor-patient relationship and protect medical marijuana patients from arrest."
A companion measure in the House has also been passed by four separate committees. It has not had a House floor vote.
In 2007, a similar bill won a Senate floor vote, but in the face of a veto threat by Republican Gov. Tim Pawlenty, the House never put it to a vote. Pawlenty's position hasn't changed this year, although he did say he might reconsider if law enforcement did not oppose it. But so far, there's no sign of that.