The Senate is following the House's lead in telling the DEA not to interfere in medical marijuana states, two Michigan initiatives get the go-ahead for signature-gathering, a package of heroin bills passes the New York Senate, Vancouver gets tired of Cannabis Day, and more.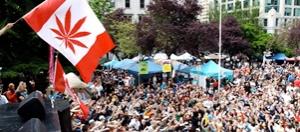 Marijuana Policy
House Budget Bill Blocks DC Marijuana Sales for Two Years, But Doesn't Try to Roll Back Legalization. The House approved an appropriations bill today that would block legal marijuana sales in the District for the next two years. But, in what advocates called a victory, it does not attempt to undo Initiative 71, which allows for legal marijuana cultivation, possession, and consumption.
Michigan Legalization Initiatives Get Go-Ahead for Signature-Gathering. Two separate marijuana legalization initiatives are ready to start gathering signatures after the state Board of Canvassers approved the wording of their petitions Thursday. One is from the Michigan Cannabis Coalition and the other is from the Comprehensive Cannabis Law Reform Committee. Now, the groups must each gather 253,000 valid voter signatures in order to send the measures before the legislature. If the legislature fails to approve them, they would go before the voters in November 2016.
Medical Marijuana
Senate Committee Votes to Keep DEA Out of Medical Marijuana. Just last week, in a series of successful amendments to the Justice Department appropriations bill, the House sent a clear message to the DEA and DOJ to stop interfering in medical marijuana states. Today, a similar message came from the Senate. The Senate Appropriations Committee voted two-to-one today in favor of an amendment from Sen. Barbara Mikulski (D-MD) that prohibits the Justice Department, including the DEA, from using federal funds to interfere in the implementation of state medical marijuana laws. Click on the link for more details and reaction.
California Medical Cannabis Organ Transplant Act Wins Committee Vote. The measure, Assembly Bill 258, would bar health providers from denying organ transplants to people solely because they are medical marijuana patients. It has already passed the Assembly, and was approved Wednesday by the Senate Health Committee. It now heads for a Senate floor vote.
Heroin
New York Senate Approves Package of Heroin Bills. The state Senate Tuesday approved a package of bills aimed at curbing the state's opiate addiction problem. The package is a mix of treatment and law enforcement measures, including a measure allowing police to charge dealers with murder in overdose deaths. The bills now head to the Assembly.
International
Vancouver Tells Marc Emery to Cool It With His Cannabis Day Festival. "Prince of Pot" Marc Emery and his wife, Jodie, have been holding an annual July 1 Cannabis Day protest for nearly 20 years, but now Vancouver city officials have told them to cease and desist because "the city does not support or approve this event at this location as planned." But Jodie Emery said that people are going to show up regardless, and if there are any problems, "that's going to fall on the shoulders of the City reps who made this call."
Canada Supreme Court Expands Definition of Medical Marijuana to Include Edibles. The Canadian high court today ruled that medical marijuana is not limited to dried, smoked flowers, but also includes edibles, extracts, and derivatives. Read the opinion here.