As of Wednesday, some 1,500 Mexican soldiers had been deployed to Ciudad Juárez, the epicenter of the prohibition-related violence wracking the country. An additional 5,000 troops should join them by the weekend.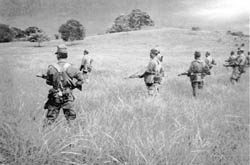 Ciudad Juárez, across the Rio Grande River from El Paso, was the scene of more than 1,600 drug war killings last year, and another 400 have been killed in fighting among competing drug trafficking organizations and between the cartels and the Mexican military and law enforcement so far this year.
The security situation in Ciudad Juárez has grown so grave that the mayor and his family have relocated across the border to El Paso after being threatened with decapitation. The city's police chief resigned last week after traffickers threatened to kill a policeman every 48 hours until he did. At first, the police chief stood firm, but resigned after traffickers killed a policeman and a prison guard. At mid-week this week, a bloody riot broke out between rival drug gang factions in a prison on the south edge of the city, leaving some 20 dead.
"Ciudad Juárez worries us deeply," Mexican Attorney General Eduardo Medina Mora said in an interview with Reuters. "It is the reason why there is a response by the federal government to support the request of local authorities. Public safety is a shared responsibility among the federal, state governments and municipalities. In areas where drug traffickers have a lot of influence, sadly there is a risk that they will have an interest in influencing the formation of public power, particularly the local authority. This is something that concerns us."
Since Mexican President Felipe Calderón called out the armed forces to go after the country's wealthy, powerful, and violent cartels in December 2006, around 9,000 people have been killed in prohibition-related violence. Thousands have been arrested and tons of drugs seized, but both the illicit drug trade and the violence show no signs of letting up.
That is making US officials increasingly nervous. Congress last year passed a three-year $1.4 billion anti-drug assistance package for Mexico and Central America, and Admiral Mike Mullen, head of the US Joint Chiefs of Staff was headed for Mexico late this week to offer further assistance to Calderón.
"Clearly one of the things he expects to talk to his counterparts in Mexico and other officials about is the growing violence and growing threat with regard to narco-trafficking and the drug cartels," Captain John Kirby, spokesman for Mullen, told Agence France-Presse. "We would welcome the opportunity to increase and enhance our military-to-military cooperation," Kirby said. "There's clearly room to do more."
Mullen wasn't the only high US official to express concern about the situation in Mexico this week. "The cartels are retaliating," Defense Secretary Robert Gates told NBC on Sunday. "It clearly is a serious problem."
But Gates added that the crisis has caused Mexico to drop its traditional arm's-length approach to the US military. "I think we are beginning to be in a position to help the Mexicans more than we have in the past," Gates said. "Some of the old biases against cooperation between our militaries and so on, I think, are being satisfied."