The federal judge hearing a multi-million dollar lawsuit against the NYPD by two men who claim they were busted on bogus drug charges has blasted the department as plagued by "widespread falsification by arresting officers."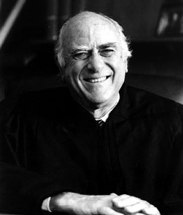 The comments from Brooklyn Federal Judge Jack Weinstein came in his decision refusing to throw out the lawsuit by Maximo and Jose Colon, who claim that Queens narcs arrested them last year on false cocaine sales charges. A surveillance tape of the bust exonerated the brothers and led to the charges against them being dropped and the indictment of arresting Detectives Henry Tavarez and Stephen Anderson.
"Informal inquiry by [myself] and among the judges of this court, as well as knowledge of cases in other federal and state courts... has revealed anecdotal evidence of repeated, widespread falsification by arresting officers of the New York City Police Department," Weinstein wrote. "There is some evidence of an attitude among officers that is sufficiently widespread to constitute a custom or policy by the city approving illegal conduct."
Weinstein's attack came after he gave Afsaan Saleem, the attorney representing the city, a chance to document steps the department and prosecutors have taken to address false testimony -- often called "testilying" -- and fabrication of criminal charges by NYPD officers. Saleem couldn't come up with enough to satisfy the judge.
The Colon case is only the most recent of a number of scandals that have left the department's credibility tattered. This year alone, hundreds of drug cases have been dismissed because of corruption in the Brooklyn South narc squad, three officers have been arresting for covering up the sodomizing of a pot smoker in a Brooklyn subway station, and a Bronx detective was convicted of perjury.
As New York Civil Liberties Union president Donna Lieberman told the New York Daily News: "The NYPD has a serious credibility issue if federal judges are convinced the department puts officers on the stand who lie."