Menominee tribal officials are scratching their heads after the DEA cut down their hemp crop, Ohio votes on legalization in one week, some new federal sentencing statistics are out, the Iranians may be thinking about legalizing marijuana and/or opium, and more.
Marijuana Policy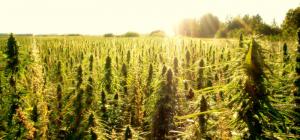 DEA Raids Menominee Reservation in Wisconsin, Cuts Down Hemp Plants
. DEA agents swarmed the reservation last Friday and cut down 30,000 cannabis plants. The tribe says they were hemp plants; the DEA claims they were marijuana plants. Hemp has very low levels of THC, but it is not clear that the DEA actually tested THC levels. In any case, under a Justice Department policy announced last fall, tribes are supposed to be able to grow marijuana on tribal lands, provided they don't fall afoul of Justice Department concerns about out-of-jurisdiction trafficking, dealing to children, organized crime activities and the like.
Both Michigan Legalization Campaigns Have Money in the Bank. According to quarterly financial reports filed Monday, the state's two different marijuana legalization efforts are both pulling in cash, but still have a long way to go on signature gathering. MI Legalize has raised $308,000 and spent $249,000 so far as it seeks to gather some 252,523 valid voter signatures by December. The Michigan Cannabis Coalition has raised $351,000 and spent $284,000. The coalition has temporarily halted signature-gathering, even though it says it is roughly 50,000 signatures short, saying the move is a "strategic decision" and petitioning will soon resume. The coalition effort has until January to turn in signatures. MI Legalize would allow taxed and regulated marijuana sales with a 10% retail sales tax; the coalition effort also legalize, but would rely on the state legislature to set taxes and set licensing requirements.
Ohio Votes on Marijuana Legalization in One Week. The ResponsibleOhio legalization initiative is too close to call a week out from election day. The initiative would legalize marijuana, but only allow 10 commercial marijuana grows allotted to campaign backers. Polls in the past week have shown the race in a dead heat. Stay tuned.
Medical Marijuana
Change.org Petition for the Kettle Falls Five. Prosecuted as marijuana traffickers for growing medical marijuana for their own use in a state where marijuana is legal, three of the Kettle Falls Five were sentenced earlier this month to federal prison. The petition here seeks "immediate orders of commutation and remission of jail time and fines for Rolland Gregg, his wife Michelle Gregg, and his mother Rhonda Firestack-Harvey. We seek complete pardons of their convictions so that they are no longer considered felons. Allow them to return to being the productive members of society they were, before this ordeal began." Click on the link to add your signature.
Sentencing
More Than Half of Federal Drug Prisoners Are Doing Time for Cocaine. A new report from the Bureau of Justice Statistics reveals that, as of 2012, 54% of federal drug war prisoners were sentenced for cocaine offenses. Then came meth at 24%, marijuana at 12%, and heroin at 6%. The vast majority (88%) of crack offenders were black, while more than half (54%) of powder cocaine offenders were Hispanic. More than half (59%) of marijuana offenders were Hispanic. Among meth offenders, it was 48% white and 45% Hispanic. One-quarter (24%) of all drug offenders were not US citizens. Click on the link to read the report.
International
Could Iran Be the Next Country to Legalize Marijuana or Opium? A prominent Iranian official has suggested as much. Saeed Sefatian, who made the remarks, is head of the working group for drug demand reduction in the country's Expediency Council, which is largely influential in the country's drug policies. Click on the link for more.