Relations between Bolivia and the US, already strained by Bolivia's expulsion of the US ambassador last month for allegedly helping to instigate anti-government protests and the subsequent US "decertification" of Bolivia for failure to comply with US drug war aims, grew even colder over the weekend. Last Thursday, Bolivian President Evo Morales rejected a DEA request to overfly the country, and on Saturday, he launched a rhetorical attack on US anti-drug policy.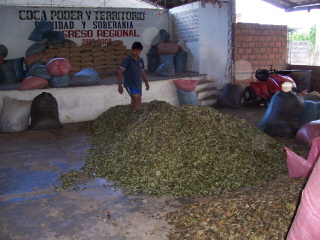 According to the
Bolivian Information Agency
, Morales last Thursday instructed his government to deny a written request from the US government to conduct surveillance flights over the South American nation. "Two days ago I received a letter from the US DEA asking a government institution for permission to fly over national territory," the agency quoted Morales as saying. "I want to say publicly to our authorities: They are not authorized to give permission so that the DEA can fly over Bolivian territory."
Bolivia is the world's third largest producer of coca, from which cocaine is produced. Since his election as president, Morales, who rose to prominence as a coca grower union leader, has embarked on a policy of "zero cocaine, but not zero coca." Under the Morales government, peasants are allowed to grow specified amounts of coca for traditional and industrial uses. In another sign of tension with the US, coca farmers loyal to Morales recently expelled US AID from the Chapare coca-growing region, saying its programs were ineffective.
On Saturday, Morales stepped up the rhetoric, saying Bolivia does not need US help to control its coca crop. He spoke before a crowd of coca growers outside La Paz.
"It's important that the international community knows that here, we don't need control of the United States on coca cultivation. We can control ourselves internally. We don't need any spying from anybody," Morales said in remarks reported by the Associated Press.
A State Department spokesman told the AP that the US had decertified Bolivia in part because it had chosen to follow its own path instead of Washington's lead. "We've certified Bolivia twice before under the Morales government, even though they have taken a very different approach to counter drugs, especially to eradication, than previous governments," said Thomas Shannon, the top US diplomat for Latin America. "But what we've noticed over the past couple of months," he added, "was a declining political willingness to cooperate, and then a very precise attempt by the part of some of the government ministries to begin to lower the level of cooperation and try to break the linkages" between US and Bolivian anti-drug efforts.
Although the Bush administration decertified Bolivia, it did not cut off anti-drug aid. It did, however, suspend Bolivia's exemption from US tariffs under a regional trade agreement. That could cost Bolivia up to 20,000 jobs, according to Bolivian business leaders. [Ed: What kind of jobs do people turn to sometimes when they lose their legal jobs?]