The big news today is yesterday's surprising appeals court ruling allowing the NYPD to continue stop-and-frisk searches, but there's more as well on marijuana reform, drug testing, and a conference in New Zealand.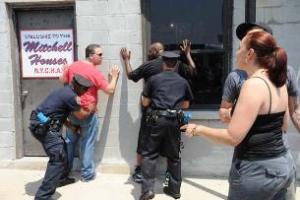 Search and Seizure
Federal Appeals Court Blocks Judge's Ruling on NYPD Stop-and-Frisk. The 2nd US Court of Appeals in New York City blocked an order by District Court Judge Shira Scheindlin requiring changes in the NYPD's much criticized stop-and-frisk program. In an unusual move, the appeals court also removed Judge Scheindlin from the case, saying she had violated the code of conduct for federal judges by giving media interviews and publicly responding to criticism of her court. Scheindlin had found that NYPD violated the civil rights of tens of thousands of people by subjecting them to stop-and-frisk searches based on their race.
Drug Testing
Truckers Object to Federal Bill to Allow Hair Drug Tests. A bill pending in Congress, House Resolution 3403, the "Drug Free Commercial Driver Act of 2013," is drawing opposition from an independent trucker group, the association's organ Landline Magazine reports. The bill would allow trucking companies to use hair testing for pre-employment and random drug tests. Currently, federal regulations mandate urine testing and allow hair testing only in conjunction with urine tests, not as a replacement. Hair-based testing can reveal drug use weeks or months prior to the testing date. The independent truckers accuse bill sponsors of carrying water for larger trucking firms that want to undercut their competition.
Marijuana Policy
Colorado to Vote Tuesday on Marijuana Tax. Colorado voters will decide Tuesday whether to impose a 15% excise tax on marijuana sales to pay for school construction and a 10% sales tax to pay for marijuana regulation. The tax vote wasn't included in Amendment 64 because state law requires any new taxes to be approved by the voters. The measure is expected to pass despite opposition from some marijuana activists.
No Pot in Washington Bars, State Regulators Say. The Washington State Liquor Control Board Wednesday filed a draft rule banning any business with a liquor license from allowing on-site marijuana use. The state's pot law already bars public use, including in bars, clubs, and restaurants, but some businesses have tried to find loopholes allowing customers to use on premise, such as by having "private clubs" within the establishment.
DC Marijuana Reform Moves Could Spur Congress to Ponder Legalization. The DC city council appears set to approve decriminalization, and DC marijuana activists are pondering a 2014 ballot initiative to legalize marijuana. That could set the stage for Congress to finally turn its sights on federal marijuana legalization, Bloomberg News suggested in this think piece.
One-Fourth of Americans Would Buy Legal Weed, Poll Finds. At least one out of four Americans (26%) said they would buy marijuana at least on "rare occasions" if it were legal, according to a Huffington Post/YouGov poll released Thursday. Only 9% said they buy it on rare occasions now. One out of six (16%) of respondents said they never buy it now, but might if it were legal.
International
New Zealand to Host International Conference on Drug Reform Laws. The country has drawn international attention for its innovative approach to new synthetic drugs—regulating instead of prohibiting them—and will be the site of a March 20, 2014 "Pathway to Reform" conference explaining how the domestic synthetic drug industry began, how the regulatory approach was chosen and how it works. International attendees will include Drug Policy Alliance head Ethan Nadelmann and Amanda Fielding, of Britain's Beckley Foundation.