The US counternarcotics mission in Afghanistan, a key element in Western efforts to defeat the Taliban, is short on long-term strategy, clear objectives, and a plan to hand over responsibility to Afghan authorities, the State Department said in a report released last Wednesday. The report was written by the State Department's Office of the Inspector General.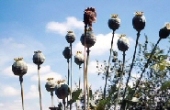 The department's Bureau of International Narcotics and Law Enforcement Affairs (known colloquially as "drugs and thugs") is responsible for shaping and administering counternarcotics policy in Afghanistan, but it is not doing its job very well, the report said. "The department has not clarified an end state for counternarcotics efforts, engaged in long-term planning or established performance measures," it noted.
With the Taliban making hundreds of millions of dollars a year off the Afghan opium and heroin trade, a smart, effective counternarcotics strategy is critical to US plans to defeat the Taliban by sending in an additional 30,000 troops. There are already 68,000 US and NATO troops in the country, where they have suffered their worst losses so far this year. The number of US military dead in Afghanistan this year sits at 310, exactly double the number killed last year. Overall US and NATO fatalities topped 500 this year, up from 300 last year.
While an effective anti-drug policy may be critical to US plans, it may also be impossible to achieve. As analysts consulted by the Chronicle five years ago -- when opium production was just beginning to reemerge as a problem area -- noted, opium is deeply implicated in the Afghan economy, with more than a million families dependent on it for a living.
"In this case, even if you support drug prohibition in general, the war on drugs is not something we can pursue if we want a rational, effective policy in Afghanistan," said Ted Galen Carpenter, an international affairs analyst for the Cato Institute. "It will undermine everything else we're trying to achieve. The international supply side drug war is complete folly no matter where it is applied, but even if you don't accept that analysis, one ought to be aware that our top priority needs to be going after radical Islamic terrorists, not Afghan farmers," he said.
But heeding the views of the bureau's hard-line drug warriors, the report said that poppy eradication was "essential" to the success of the strategy. But Richard Holbrook, Obama's emissary to the region, abruptly ended the US role in eradication earlier this year, arguing that it served only to alienate poor poppy farmers and drive them into the arms of the Taliban. Instead, Western forces have concentrated on capturing or killing traffickers linked to the Taliban.
Even so, the report found, the bureau had "no clear strategy for transitioning and exiting from counternarcotics programs in Afghanistan." It added that while Afghan contractors working on poppy eradication were meeting agreed-upon goals, vague performance measures in their contracts made it difficult to tell how effective they were.
The report did cut the bureau some slack, noting that it faced tough challenges in Afghanistan, including "a weak justice system, corruption and the lack of political will" in the Afghan government. It also acknowledged the powerful economic incentives for poor Afghan farmers to grow opium poppies.
It recommended setting "a defined end state" for US anti-drug programs, in-country monitoring of contractors, and establishing benchmarks for measuring the Afghan takeover of anti-drug programs.