The New Jersey legislature last week passed a revised S 958, bill allowing pharmacies to sell syringes without a prescription. Gov. Chris Christie (R) signed it into law Tuesday. The legislature had passed the bill in December, but last week, Christie conditionally vetoed the original version of the bill, saying it needed to be tightened.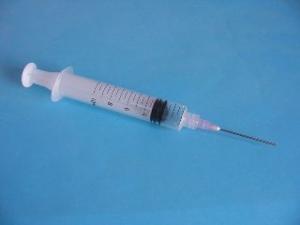 In his
veto statement
, Christie said the bill should include "a requirement of purchasers to present a photo identification for proof of age" and should require the health department to provide information about syringe disposal and drug treatment programs to pharmacies.
The bill would allow for the purchase of up to 10 syringes without a prescription. It also decriminalizes the possession of needles bought from a pharmacy without a prescription.
New Jersey is one of only two states that still bans over-the-counter syringe sales. The other is neighboring Delaware.
The bill was sponsored by Assemblyman Reed Gusciora (D-Mercer), Assemblyman Gordon Johnson (D-Bergen), Assemblyman Craig Coughlin (D-Middlesex), Assemblywoman Joan Voss (D-Bergen), Assemblywoman Cleopatra Tucker (D-Essex), Assemblywoman Joan Quigley (D-Bergen and Hudson) and Assemblyman Thomas Giblin (D-Essex and Passaic).
Now that the governor has gotten the language he wanted, he has signed the bill.