by Bernd Debusmann, Jr.

Mexican drug trafficking organizations make billions each year smuggling drugs into the United States, profiting enormously from the prohibitionist drug policies of the US government. Since Mexican president Felipe Calderon took office in December 2006 and called the armed forces into the fight against the so-called cartels, prohibition-related violence has killed more than 38,000 people, including more than 15,000 last year. The increasing militarization of the drug war and the arrest or killing of dozens of high-profile drug traffickers have failed to stem the flow of drugs -- or the violence -- whatsoever. The Merida initiative, which provides $1.4 billion over three years for the US to assist the Mexican government with training, equipment and intelligence, has so far failed to make a difference. Here are a few of the latest developments in Mexico's drug war: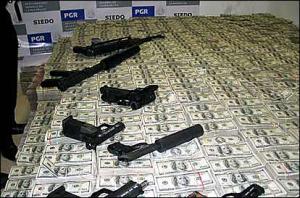 Thursday, May 12
In Arizona,
two Border Patrol officers were killed
after their vehicle was hit by a freight train while chasing two suspected Marijuana smugglers attempting to reach Interstate 8. The area where the incident occurred is a well-known transit zone for drugs and people being smuggled from Mexico to the United States.
Saturday, May 14
Near Ciudad Juarez,
a small town police chief and two of his officers
were abducted in the town of Nuevo Casas Grandes and later found dead near a Mennonite community in the town of Janos. Manuel Martinez Arvizo was the public security chief for the nearby town of Ascension, which, like many towns in the northwest part of Chihuahua, has been plagued with extremely high levels of drug-related violence.
Tuesday, May 17
In the Peten region of Guatemala, the
government declared a state of siege
after the massacre of 27 farm workers by Guatemalan drug traffickers thought to be tied to the Zetas. Both the Zetas and Sinaloa cartel have a significant presence in Guatemala, through which substantial quantities of South American cocaine transit on their way to Mexico and then to the United States.
Wednesday, May 18
In a rural area outside Matamoros and near the US border
, three gunmen were killed and three others were captured
in a large fire fight with the army. The incident began when a military helicopter came under fire after having spotted a 17-car convoy. Reinforcements clashed with gunmen in several rural communities and confiscated a large arsenal which included grenade launchers, a rocket launcher, and over 18,000 rounds of ammunition. 17.6 pounds of cocaine were also recovered.
Thursday, May 19
In Cuernavaca,
Mexican authorities arrested a leading member
of the South Pacific Cartel. Victor Valdez is believed to be the second in command of the cartel after Hector Beltran Leyva. A local police chief, Juan Bosco, was also arrested on suspicion of being in collusion with Valdez.
Friday, May 20
In Mexico City,
a former general and key figure in Mexico's drug war was shot and killed after a traffic accident.
It is unclear whether General Jorge Juarez Loera was killed by cartel gunmen, but the federal prosecutors office has taken charge of the investigation because it suspects the involvement of organized crime.
In Reynosa,
a leading Gulf Cartel figure was captured
at his own birthday party. Gilberto Barragan Balderas, 41, is thought to be a leading enforcer in the Gulf Cartel is also wanted by the DEA, which had previously offered a $5 million reward for information leading to his capture or conviction.
Saturday, May 21
In Ciudad Juarez
, two young women, aged 15 and 16, were shot dead
by heavily armed gunmen who arrived to their home in a luxury SUV.
Sunday, May 22
In Monterrey
, nine people were killed in a series of gun battles
. The incidents began when heavily armed gunmen shot dead four people outside a popular café. Three of the bodies were then whisked away by unidentified individuals who faced no opposition from police officers who were already on the scene. Later on, five gunmen were killed when the SUV they were in crashed during a car chase with a military patrol.
In Ciudad Juarez,
six people were murdered
. Among the dead were three known car thieves who were shot over 40 times by unidentified gunmen while they were in the act of dismantling a car. According to statistics kept by researcher Molly Molloy, this brings the death toll in the city to 105 for the month of May and 912 for 2011 so far.
Tuesday, May 24
In Coahuila,
Mexican Marines captured
the alleged head of the Zetas for the Hidalgo, Coahuila area.
In Monterrey,
a soldier was wounded
after a military patrol came under fire from gunmen who were waiting on an overpass bridge, after having been lured to the site by a group of trucks which ignored the soldiers commands to stop.
Editor's Note: We cannot accurately tally the drug prohibition-related killings in Mexico at this time. El Universal, the only Mexican newspaper that was doing so on a regular basis, has stopped. We will have to rely on official pronouncements on the death toll, and will report them when they happen. Below are the numbers through the end of last year. With more than 1,400 reported dead in April alone, this year's toll could well exceed last years. As of this month, we believe the total death toll has surpassed 38,000.]
Total Body Count for 2010: 15,273
Total Body Count for 2009: (approx.) 9,600
Total Body Count for 2008 (approx.): 5,400
Total Body Count for 2007 (approx): 4,300
Total Body Count for Calderon's drug war through 2010: 34,883