Florida's medical marijuana initiative will go to the voters in November, the DEA administrator is being both jeered and cheered for her criticism of President Obama's remarks on marijuana, the Supreme Court makes it harder to punish drug dealers for deaths related to their wares, and much more. Let's get to it: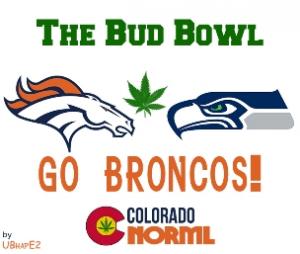 Marijuana Policy
DEA Head Criticizes Obama Marijuana Remarks, Faces Calls to be Ousted. DEA Administrator Michele Leonhart last week got a standing ovation from a convention of sheriffs when she criticized President Obama's remarks on the relative safety of marijuana compared with alcohol. But now, drug reformers are calling for her head.
Colorado and Washington NORML in Superbowl "Bud Bowl" Challenge. The contenders in Sunday's NFL Superbowl game, the Denver Broncos and the Seattle Seahawks, both come from states where marijuana is legal. In honor of their hometown teams and their respective states' legal marijuana status, NORML chapters in Washington and Colorado have engaged in a friendly wager. If the Denver Broncos win, WA NORML has agreed to dress in Bronco colors of blue and orange and sing Karaoke-style Colorado's (second) official state song "Rocky Mountain High" by John Denver. If the Seattle Seahawks win, CO NORML will do the same, but in Seahawk blue and green and singing "Purple Haze" by Jimi Hendrix, a native son of Seattle. [Ed: StoptheDrugWar.org has no position on either the game or the wager.]
New Jersey State Senator Announces Plans to Introduce Marijuana Legalization Bill. State Sen. Nicholas Scutari (D) said late last week that he plans to introduce a bill to legalize marijuana. The bill is not yet filed, but envisions language that would tax and regulate marijuana like alchohol.
Harris County (Houston) DA Says Decriminalize It. Responding to Texas Gov. Rick Perry's (R) remarks last week in Davos that he supported decriminalization of marijuana possession, Harris County DA Devon Anderson said she agrees with his call for decriminalization.
Seattle City Attorney Wants More Marijuana Stores. Seattle City Attorney Pete Holmes last Thursday reiterated his request that the Washington State Liquor Control Board increase the number of marijuana retail stores allowed in the city. The board has set the number at 21, but Holmes has said that is not going to be enough.
Oregon Marijuana Legalization Referendum Bill Filed. State Sen. Floyd Prozanski (D-District 4) and several cosponsors have introduced Senate Bill 1556, which would legalize, tax, and regulate marijuana possession and commerce for adults. If passed by the legislature, the measure would then go before voters on the November ballot.
Medical Marijuana
Florida Supreme Court Approves Medical Marijuana Initiative -- It's Going to the Voters! The Florida Supreme Court Monday removed the final obstacle to the state's medical marijuana initiative appearing on the November ballot. It rejected a challenge to the measure's language by Attorney General Pam Bondi (R). The initiative has already had enough signatures validated to qualify. Click on the link to read the opinion and the text of the initiative.
Guam Medical Marijuana Bill Now Calls for Referendum. Sen. Tina-Muna Barnes, sponsor of medical marijuana Bill 215, announced Monday that she has rewritten the bill "to allow for a referendum, thus placing the question before the People of Guam in the 2014 General Election." She made the change, she said, because "the overwhelming majority of senators from both parties felt that an issue of this importance should be decided by the people directly."
Medical Marijuana Dispensary Licenses Set To Be Awarded In Massachusetts. The state Department of Public Health says it hopes to award up to 35 medical marijuana dispensary licenses this week. More than a hundred applications have been submitted. State law allows up to five dispensaries in each county in the state.
Drug Testing
Bangor (PA) School District Wants Random Drug Tests for Teachers. A policy that would make the Bangor Area School District the only one in the state to require random, suspicionless drug testing of teachers is part of negotiations for a new union contract. The contract being discussed wouldn't impose random drug testing, but would require teachers to put it to a vote. The issue came to the fore in the area after a teacher died of a heroin overdose in the apartment of a wrestling coach in 2009.
Illinois Welfare Drug Testing Bill Introduced. State Rep. Dwight Kay (R-Glen Carbon) has introduced a bill that would require welfare applicants to undergo a drug test before becoming eligible to receive benefits. House Bill 4255 does not include an intermediary step of drug screening to determine which applicants are likely to be drug users, but goes straight to testing all applicants. The federal courts have found similar laws unconstitutional.
Sentencing
US Supreme Court Restricts Heroin Death Sentencing Enhancement. The US Supreme Court ruled Monday that a heroin dealer cannot be held liable for a customer's death if the heroin use was only a contributing factor and not necessarily the sole cause. Federal law imposes a 20-year mandatory minimum sentence when "death or serious injury results from the use" of an illegal drug, and prosecutors have used the statute to win the tough sentences, but the high court held Monday that prosecutors must prove that the drug was the specific cause of death, not just a contributing factor. The case is Burrage v. United States.
San Francisco Jail Population Dropping Because of Decrease in Drug Arrests. A report from the San Francisco board of supervisors' budget analysts says the jail population has dropped because of decreased drug arrests and city policies that promote alternatives to incarceration. The jail population is down 30% since 2008. The report comes as supervisors wrangle over whether the city needs a new jail and how big it should be.
Law Enforcement
DEA Busts Bitcoin Exchange CEO for Silk Road Money Laundering. Charlie Shrem, the CEO of BitInstant, a Bitcoin exchange, has been arrested by the DEA and is charged with money laundering for selling over $1 million in Bitcoins to users of the Silk Road dark web drug sales site, who used the currency to buy drugs there. Shrem faces federal money laundering charges. Shrem and an unnamed coconspirator were both charged. "Hiding behind their computers, both defendants are charged with knowingly contributing to and facilitating anonymous drug sales, earning substantial profits along the way," DEA agent James Hunt said in a release.
Virginia Bill to Criminalize "Secret Compartments" Filed. A bill introduced by state Sen. Chap Petersen (D-Fairfax) would make it a crime to knowingly have a secret compartment in a car -- even if there isn't anything in it. The bill, Senate Bill 234, makes having such a compartment a felony and defines a "false or secret compartment" as any enclosure that is integrated into or attached to a vehicle or vessel, the purpose of which is to conceal, hide, or prevent the discovery of a person, controlled substance, or other contraband.
International
Mexican President Invites Anti-Cartel Vigilantes to Join Security Forces. Mexican President Enrique Pena Nieto said last Thursday that anti-cartel vigilantes or militias were a result of institutional weakness within national security forces and asked them to join those same security forces. He asked them to do "to do it by observing the principles and formalities of the law, fulfilling the requirements to become part of the security corps." The vigilantes are engaged in ongoing battles with the Knights Templar cartel in the state of Michoacan.
Dutch MP Calls on Government to Allow Marijuana Growing Pilot Projects. Labor MP Marith Rebel called last week for Justice Minister Ivo Opstelten to allow experiments with the legal production of marijuana. "Turning a blind eye to the fact the cafes are selling marijuana but not recognizing the fact they also have to buy it is helping criminals," Rebel said. Opstelten last month rejected calls from local councils to allow regulated grows, even though polls show majority support for the move.
New Zealand Greens Will Push for Marijuana Decriminalization, But Not Too Hard. New Zealand's Green Party says it will push for decriminalization in any post-election negotiations with Labor, but that the issue will not be a deal breaker. "I would like to progress a vast amount of our policy, and that would be one," said party coleader Metiria Turei. "We believe a drug-free lifestyle is the healthiest, but we don't believe people should be convicted of a crime, adults, if they smoke cannabis. So we still consider decriminalization is the wisest policy." But she also said the party had no bottom lines as it ponders the prospect of a coalition government with Labor.