New York's city council speaker says legalize it, there are medical marijuana moves in Connecticut and Maryland, a Utah commission suggests defelonizing drug possession, a Peruvian petition seeks to end arrests for drug use, which is not a crime in Peru, and more. Let's get to it: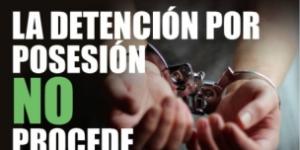 Marijuana Policy
New York City Council Speaker Says Legalize It. Melissa Mark-Viverito, speaker of the New York City Council, has come out for marijuana legalization. "It's not something we can just do randomly, but with a thought process, and looking how it's being implemented in other areas. But I do support the legalization of marijuana," she said in response to a reporter's question. "States are speaking. Based on the conversations that we see happening nationally, and how people feel about it, I think that it's just something that is appropriate at this time." At least four other council members, including Rafael Espinal, Stephen Levin, Mark Levine, and Jumaane Williams, have also pronounced in favor of freeing the weed.
Medical Marijuana
San Diego Moves Ahead on Shutting Down Unpermitted Dispensaries. San Diego officials forced yet another unpermitted dispensary to shut down Thursday after shutting down four others three weeks ago. About 50 unpermitted dispensaries still operate in the city, which is going to allow permitted dispensaries to begin operating early next year.
Maryland Commission Approves Medical Marijuana Regulations. The commission charged with drafting the regulations approved them Thursday, but they still need to be approved by a legislative panel and the state's health secretary. The approval came after a delay last month, when some critics said fees for growers and dispensaries were too high. They still ain't cheap: Fifteen licensed growers will have to pay $250,000 every two years, while dispensaries will have to pay $80,000 every two years. The program isn't expected to be operational until 2016.
South Carolina Senator Will Introduce Medical Marijuana Bill. State Sen. Tom Davis (R-Beaufort), who sponsored a successful low-THC, high-CBD medical marijuana bill this year, said Thursday he will sponsor a full-fledged medical marijuana bill next year. He made the announcement at a meeting of the state Medical Marijuana Study Committee at Clemson University.
Connecticut to Consider Adding New Qualifying Conditions for Medical Marijuana. The state Department of Consumer Protection is considering whether to expand the state's quite restrictive list of qualifying medical conditions to include sickle cell anemia, Tourette's syndrome, "failed back syndrome," severe psoriasis, and psoriatic arthritis. The Board of Physicians will hold a public hearing on the matter on November 26. Click on the title link for more information.
Asset Forfeiture
The Orange County Register Calls for Federal Asset Forfeiture Reform. In a Thursday editorial, The Orange County Register wrote that one way a divided Congress could show some bipartisanship is by passing asset forfeiture reform legislation. "Civil asset forfeiture hasn't made many headlines until this year. But its very obscurity has bred a degree of corruption that badly undermines the integrity of law enforcement -- from local police all the way to the FBI," the newspaper noted, calling the process "rife with abuse." The suburban Los Angeles daily, California's 5th largest circulation newspaper, also said asset forfeiture too often resembled "literal highway robbery -- committed by the very people charged to serve and protect." The Civil Asset Forfeiture Reform Act (HR 5212) is pending in the Congress.
Harm Reduction
Report on the 10th National Harm Reduction Coalition Conference. The Harm Reduction Coalition's 10th national conference took place late last month in Baltimore. Click on the title link to get a lengthy and informative report on it from the North Carolina Harm Reduction Coalition's Tessie Castillo.
Sentencing
Utah Crime Commission Calls for Defelonzing Drug Possession. In a report released Thursday, the Criminal and Juvenile Justice Commission rolled out a package of recommendations for controlling prison population growth, including making first-time drug possession a misdemeanor instead of a felony. All of the report's recommendations were approved unanimously by the commission. Now, it will be up to the legislature to enact them.
International
Another Year of Rising Opium Production in Burma. The Irawaddy Journal and Magazine has a lengthy report on this year's opium crop in the Shan state. Production is up for the sixth year in a row, and Burma now accounts for 18% of global opium production, according to the UN Office on Drugs and Crime (UNODC). "We could not grow any other plants here to make a living, except poppy. If they [the government] ban it, we will have no other jobs," said a 50-year-old villager. A good read; check it out.
Petition Urging Peruvian Government to Stop Arresting People for Drug Use, Which is Not a Crime. Drug use is not a crime under Peruvian law, but more than half of all drug trafficking charges are for drug use -- not drug trafficking. Activists in Peru have been working to get police to actually obey the law and not arrest drug users, but so far to no avail. Now, there is a petition directed at Interior Minister Daniel Urresti and the National Police, urging them to abide by the law. Click on the link to sign it. They are seeking 25,000 signatures, but only have 526 so far. Okay, make that 527 now.
Saudi Arabia Executes Another Drug Offender, 22nd This Year. A Pakistani man convicted of smuggling heroin into the kingdom in his intestines was beheaded in Kharj Thursday. Niaz Mohammed Ghulam Mohammed was the seventh person beheading for drug trafficking this month, and the 22nd of the year. Drug offenders account for about 40% of all Saudi executions so far this year.