President Obama talks ganja in Jamaica, a federal banking official talks shop in Colorado, New Mexico takes a historic step to end civil asset forfeiture, and more.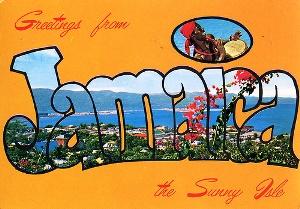 Marijuana Policy
Rastaman Queries Obama on Marijuana Policy. At a town hall event in Kingston, Jamaica, a dreadlocked Rastafarian asked President Obama about legalizing marijuana. "Give thanks! Yes greetings Mr. President," said the man, "Life and blessings on you and your family. My name is Miguel Williams but you can call I and I 'steppa'... That is quite sufficient, ya man." Williams then set out the case for legalization and asked if Obama would champion it. "How did I anticipate this question?" was Obama's joking response. "Well, there is the issue of legalization of marijuana and then there is the issue of decriminalizing or dealing with the incarceration in some cases devastation of communities as a consequence of nonviolent drug offenses," Obama said. "I am a very strong believer that the path that we have taken in the United States in the so-called 'war on drugs' has been so heavy in emphasizing incarceration that it has been counterproductive," he said to some applause. But he didn't address the question of whether the US should legalize, only whether it would. "I do not foresee, any time soon, Congress changing the law at a national basis," he said.
Federal Banking Official Meets With Colorado Pot Shops. Kansas City Federal Reserve President Esther George met with marijuana business owners in Denver Thursday to discuss vexing access to banking issues with proprietors. But she gave no indication that the industry is on the verge of gaining increased access to financial services. Click the link for more details.
Kansas Attorney General Asks State Supreme Court to Undo Wichita Decriminalization Vote. Attorney General Derek Schmidt has asked the high court to strike down the decriminalization ballot measure approved by Wichita voters on Tuesday. In a court filing Thursday, Schmidt argued that the ordinance would conflict with state law, that it would give unlawful direction to police and judges, and that the initiative was not properly filed because it did not contain a "be it ordained" clause required by state law.
Oregon Edibles Could Be Delayed. Oregon pot shops should be open by early next year, but don't expect to find any edibles in them, at least at first. The Oregon Liquor Control Commission has asked the legislature for the okay to delay licensing of edibles manufacturers, citing the complexities around the issue. Edibles may not be available until 2017.
Medical Marijuana
Colorado Bill to Let Parolees, Probationers Use Medical Marijuana Advances. The House Judiciary Committee unanimously approved a bill Thursday that would allow people on probation or parole use to medical marijuana. The change wouldn't apply, however, to people whose crimes were related to marijuana. The measure is House Bill 1267.
Los Angeles City Attorney Says 500 Unpermitted Dispensaries Shut Down. City Attorney Mike Feuer said Thursday that his office has closed down 500 unpermitted dispensaries since the city voted two years ago to cap their number at about 130. But he conceded that hundreds more still operate.
Asset Forfeiture
New Mexico Ends Civil Asset Forfeiture. In a historic move, New Mexico Gov. Susana Martinez (R) today signed into law a bill that will end civil asset forfeiture by law enforcement in the state, a practice widely known as "policing for profit." The measure is House Bill 560. Click on the title link for more details.
Law Enforcement
California Bill Would Allow Immigrant Drug Offenders to Get Treatment, Avoid Deportation. A bill proposed by Assemblywoman Susan Talamantes Eggman (D-Stockton) would let people charged with drug possession and other low-level drug offenses to opt for drug treatment ahead of taking a plea and see their charges dropped if they complete treatment. The bill is designed to block the deportation under federal law of long-time resident immigrants because they have a drug conviction. The bill is Assembly Bill 1351. It is currently before the Assembly Public Safety Committee.