The upsurge in violence that has shaken Mexico since President Felipe Calderon declared war on the so-called drug cartels more than three years ago was entirely predictable, according to a study based on decades of scientific literature. That review, which examined more than 300 studies dating back over 20 years, found that when law enforcement cracks down on drug use and sales, violence almost always increases.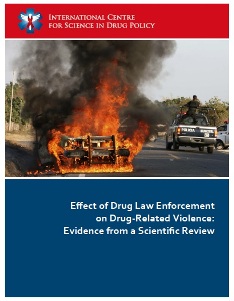 The study, "
Effect of Drug Law Enforcement on Drug-Related Violence: Evidence from a Scientific Review
," was released Tuesday by the
International Center for Science in Drug Policy
(ICSDP), a group of experts based in Britain and Canada. The ICSDP is led by Dr. David Nutt, the former chair of the British
Advisory Council on the Misuse of Drugs
, who was sacked last fall for his heterodox views on the Labor government's drug policies.
The review found that when police get tough on drug crime, black market prices rise, sparking battles for control of lucrative drug markets. Similarly, when powerful drug bosses are arrested or killed by police, struggles to take their place lead to more violence. Researchers found that in 87% of the studies measuring the impact of increased drug law enforcement on violence, increased law enforcement led to increased violence. None showed an increase in drug law enforcement leading to a reduction in violence.
"Among all the harms related to drug use, it now seems that the very measures most countries use to reduce drug use are actually causing harms to drug users and the community," said Gerry Stimson, executive director of the International Harm Reduction Association, and chair of the Liverpool harm reduction conference where the study was presented. "Law enforcement is the biggest single expenditure on drugs, yet has rarely been evaluated. This work indicates an urgent need to shift resources from counterproductive law enforcement to a health-based public health approach."
"From a scientific perspective, the widespread drug violence in places like Mexico and the US, as well as the gun violence we are increasingly seeing on city streets in other countries, appears to be directly linked to drug prohibition," said coauthor Dr. Evan Wood, a researcher at the BC Centre for Excellence in HIV/AIDS and founder of the ICSDP. "Prohibition drives up the value of banned substances astronomically, creating lucrative markets exploited by local criminals and worldwide networks of organized crime. Unfortunately, the evidence suggests that any disruption of these markets through drug law enforcement seems to have the perverse effect of creating more financial opportunities for organized crime groups, and gun violence often ensues."
The review notes that drug prohibition has created a huge global market in illicit drugs estimated at $320 billion annually and that several studies included in the report suggested that law enforcement removing key players from the drug trade creates power vacuums that engender violent competition. The report warned that as police employ increasingly sophisticated measures to disrupt drug trafficking networks, levels of violence may rise.
"The war on drugs does not work, period," said Dr. Julio Montaner, president of the International AIDS Society and member of the ICSDP's Scientific Board. "Countries around the world have invested in policing and other law-enforcement interventions to try to curtail the drug trade, but these efforts have not met the stated goals of reducing the supply of drugs or drug-related violence. We must take an evidence-based approach to dealing with the drug market, because current strategies are not working and people are paying for ill-considered policies with their lives."
ICSDP head David Nutt said that criminalizing illicit drugs leads to severe and unintended consequences and governments around the world should look to countries with more effective, evidence-based drug policies. "We must assess the relative harms of all drugs and, where appropriate, look to novel strategies for reducing availability through regulatory models that do not create unintended harms such as enriching organized crime or increasing violence," said Dr. Nutt. "The creation of a new international scientific body on drug policy such as the ICSDP represents a critical step forward in helping to educate the public and policymakers on the need for greater inclusion of scientific evidence into illicit drug policies."
US drug czars past and present didn't want to hear it. When asked about the findings by the Associated Press, current Office of National Drug Control Policy head Gil Kerlikowske said the US is shifting toward prevention and treatment -- a claim unmatched by the latest federal drug budget -- but that prohibition must remain. "I don't know of any reason that legalizing something that essentially is bad for you would make it better, from a fiscal standpoint or a public health standpoint or a public safety standpoint," he said.
Kerlikowske's immediate predecessor, John Walters, said the researchers had it backwards. He said most killings after police crackdowns are among criminals and thus, in an ugly and paradoxical way, reflect success. "They're shooting each other, and the reason they're doing that is because they're getting weaker," he said. Don't blame law enforcement, Walters said. "The cause of the violence is not the law. The cause of the violence is the criminals and the viciousness in which criminal activity is carried out," he said.